I've been doing quite a lot of fishing over the last few months, but have been a bit slack with my blogging. The perch fishing on my local lakes has been great so far this autumn, lots and lots of fish but nothing spectacularly big. I few days out with the kids bit bashing on local commercials such as Bradshaw Hall, and Sycamore Fisheries, and some carp fishing at Drinkwater Park Lake… I have the photos to prove it honestly  – and will do some write ups over the winter months.
However, I have a pal who needed a night out on the beach last night and I was happy to oblige with the driving. We arrived at 5 Bar Gate at Bispham just as low tide was turning into the flood, and walked up the beach towards Rossall.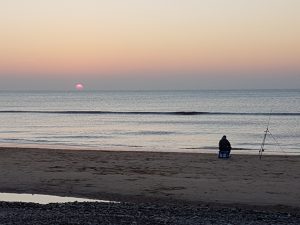 We found a spot where we could feel comfortable that the tide wasn't going to come in a gully behind us in the dark without our realising, and set up a single rod each…. myself with a 2 hook flapper rig, and my pal Phil with the same but instead of loose hook lengths, his were to short wire booms. We both used 4 oz breakaway leads.

I used a 14ft continental style beach caster, and a big fixed spool reel loaded with 30lb braid.
Bait was frozen black lug from Bispham Angling shop.
Using this set up, I can get a good 100+ yards with a simple overhead lob. And I was casting a good 120 yards as there was a stiff offshore breeze.
It didn't take long for the bites and fish to arrive, and we were catching Whiting, Doggies and a single Codling as the tide made its way up the beach. We fished until an hour after high tide and then packed up and made our way to the chippy for tea..
A good chin wag, setting the world to rights – I find beach fishing to be a very social experience as we can fish a rod each from a single tripod and chat all night long without fear of creating a disturbance. We had a great time, chatting about this and that, and as it was a cold clear night, we watched the constellations, the planes, satellites and shooting stars as we stared up at our rod tips.
An interesting thing we noted was that all the bigger fish of the evening came near to low tide, and all the smaller fish at high tide and the hour after. We had some really good sized Whiting to begin with and they got smaller and smaller as the night wore on. The tides were quite small, only 7.3m – so we agreed to come back for another session later in the month when the moon fills, and the tides reach 9.3m. It will be interesting to see how the fishing compares from a big low to big high tide.