The Fenix Final Weekend 12th 13th June 2021
After the excitements of away trips to Warsaw and Milan we were really looking forwards to the finals weekend in Rimini, where all the teams who had entered the tournament, we going to get to play at the Rimini stadium.
The Fenix organisers had posted online that the finals weekend was to be the 5th and 6th of June, but that this was possibly subject to change. Ryanair had a promotional offer in January where it was possible to book flights with free cancelation, so it was a no brainer to take a chance on flights for £12 each way to Rimini. My wife and daughter are never ones to miss out a trip to a beach in the sun, so I ended up paying less than a hundred quid for all of us to have a week away in the Rimini sun, with the Fenix Finals thrown in the mix as an added bonus for me and Tommy.
About a week after I'd booked, Adrian the FC United Chairman told me that the finals would definitely not be on the dates I'd booked but likely to be a little later in June.. As it worked out they were only the week later, so my wife and daughter had a great weeks holiday with us in Rimini, and then Tommy and I stayed on for a second week to watch the football… Apart from the extra hotel costs etc we only paid another £70 for our later flights home, and ended up having a great two week holiday in Rimini. The extra days allowed us to visit all the local towns, and a trip to San Marino which was spectacular.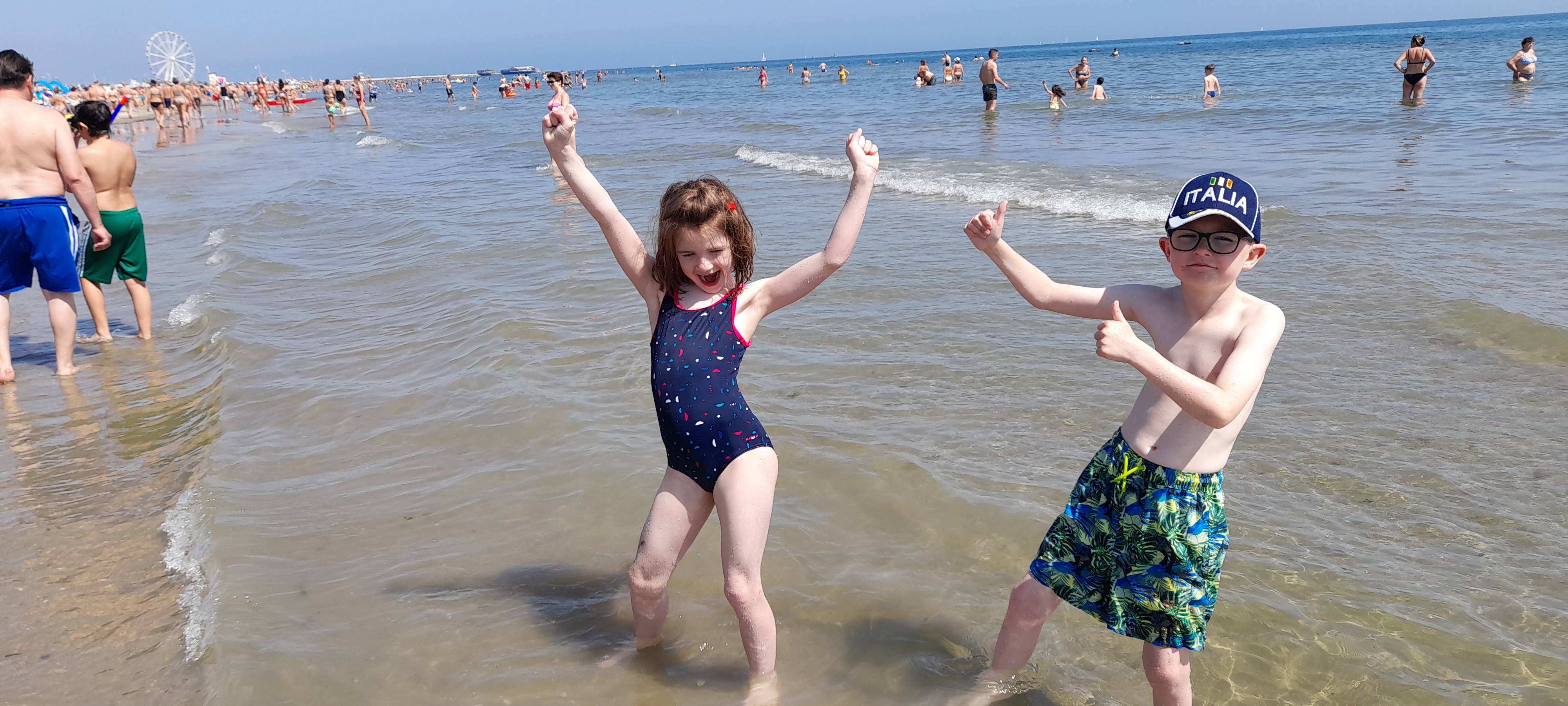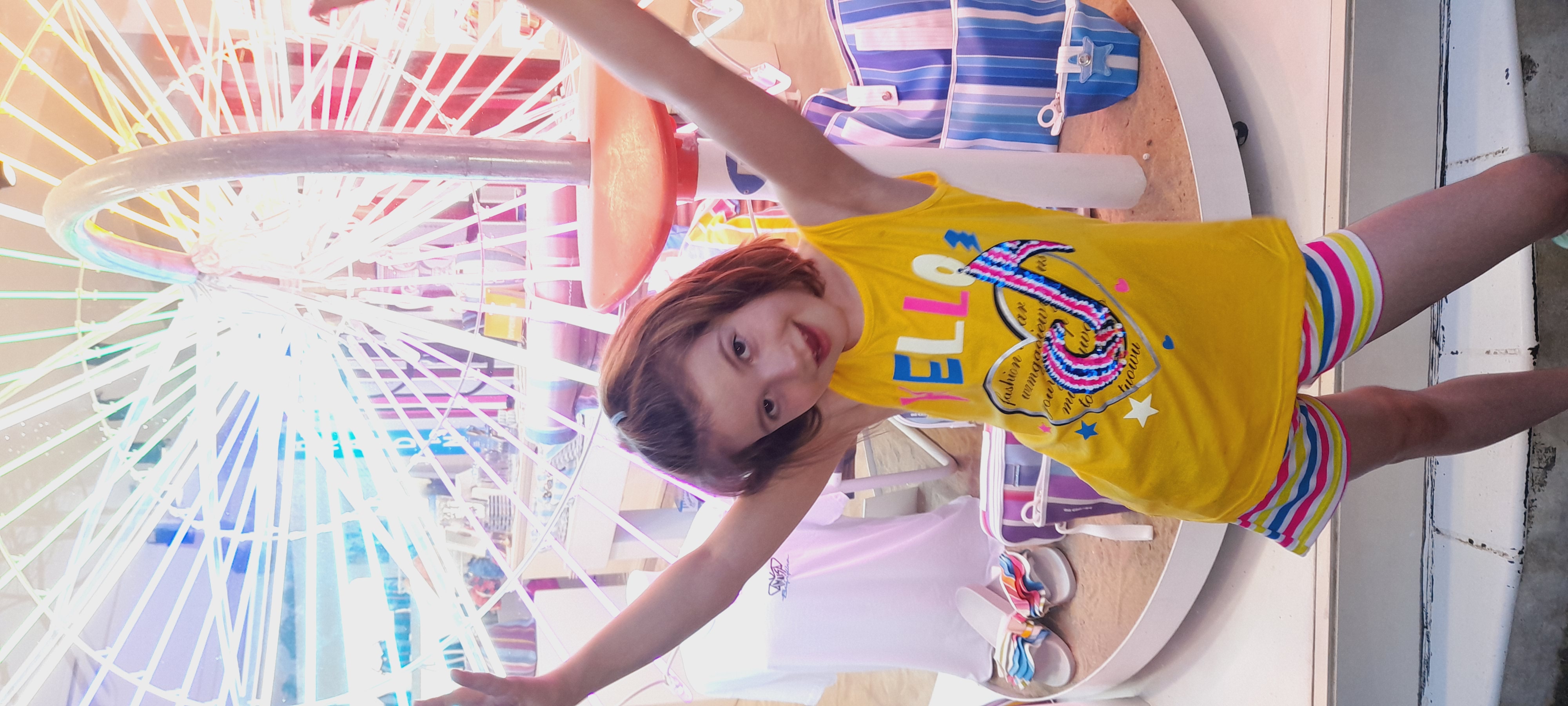 Anyway – enough of my domestic arrangements – back to the football.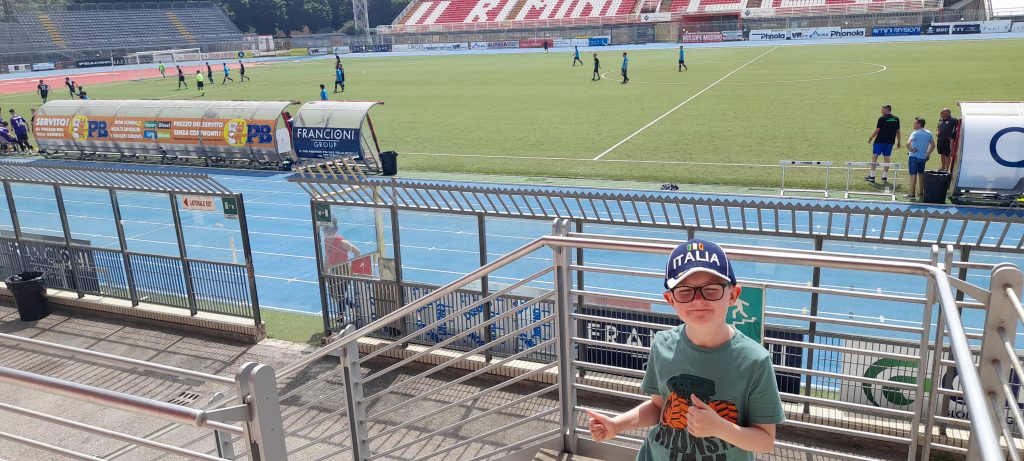 As the girls went home and our second week in Rimini started we began to see more and more red shirts and badges in town as the FC fans started to roll in. The Bounty Bar and the Rose & Crown were doing a brisk trade. Wednesday was busy, Thursday busier and by the time of the first match on the Friday evening between Brera (of Milan) and Lodigiani (of Rome) the town was buzzing with non-league international football.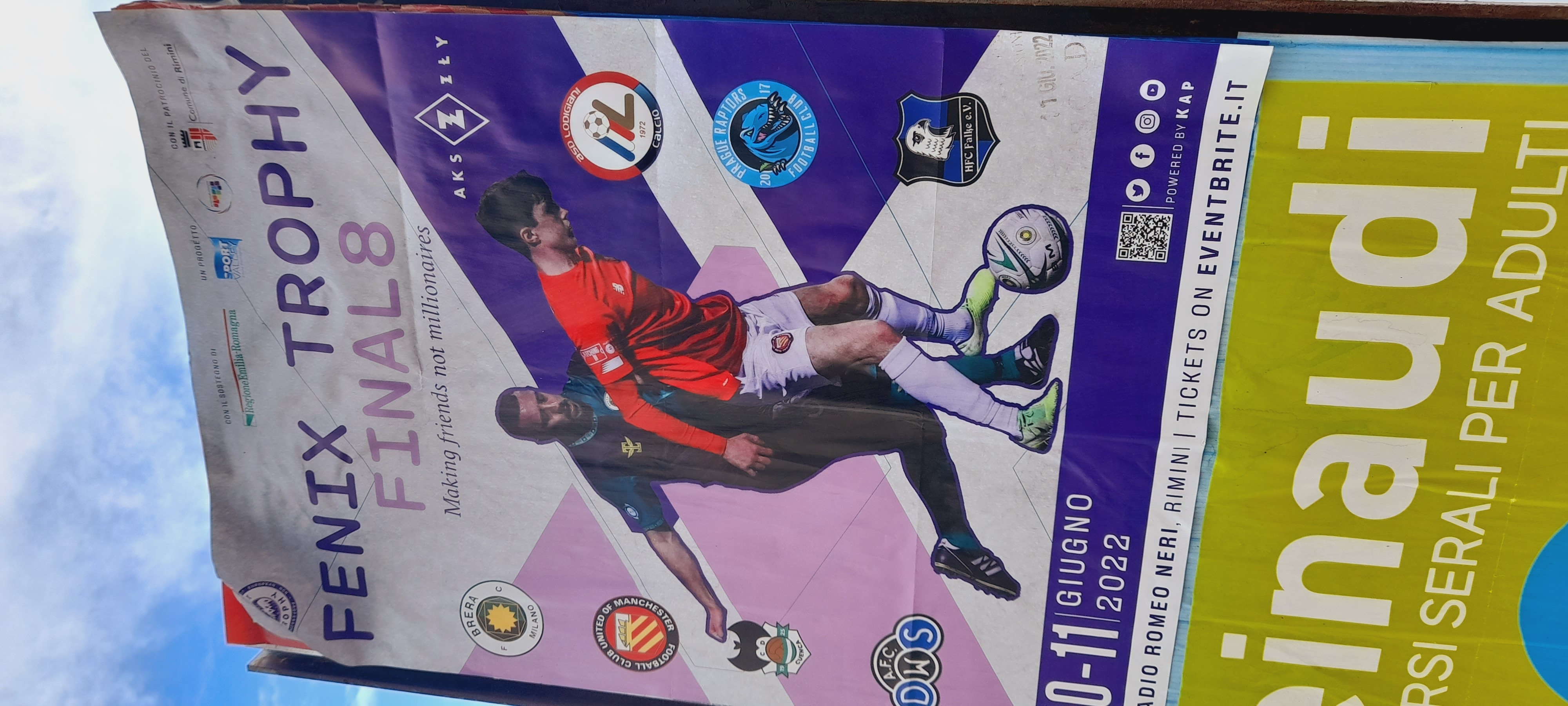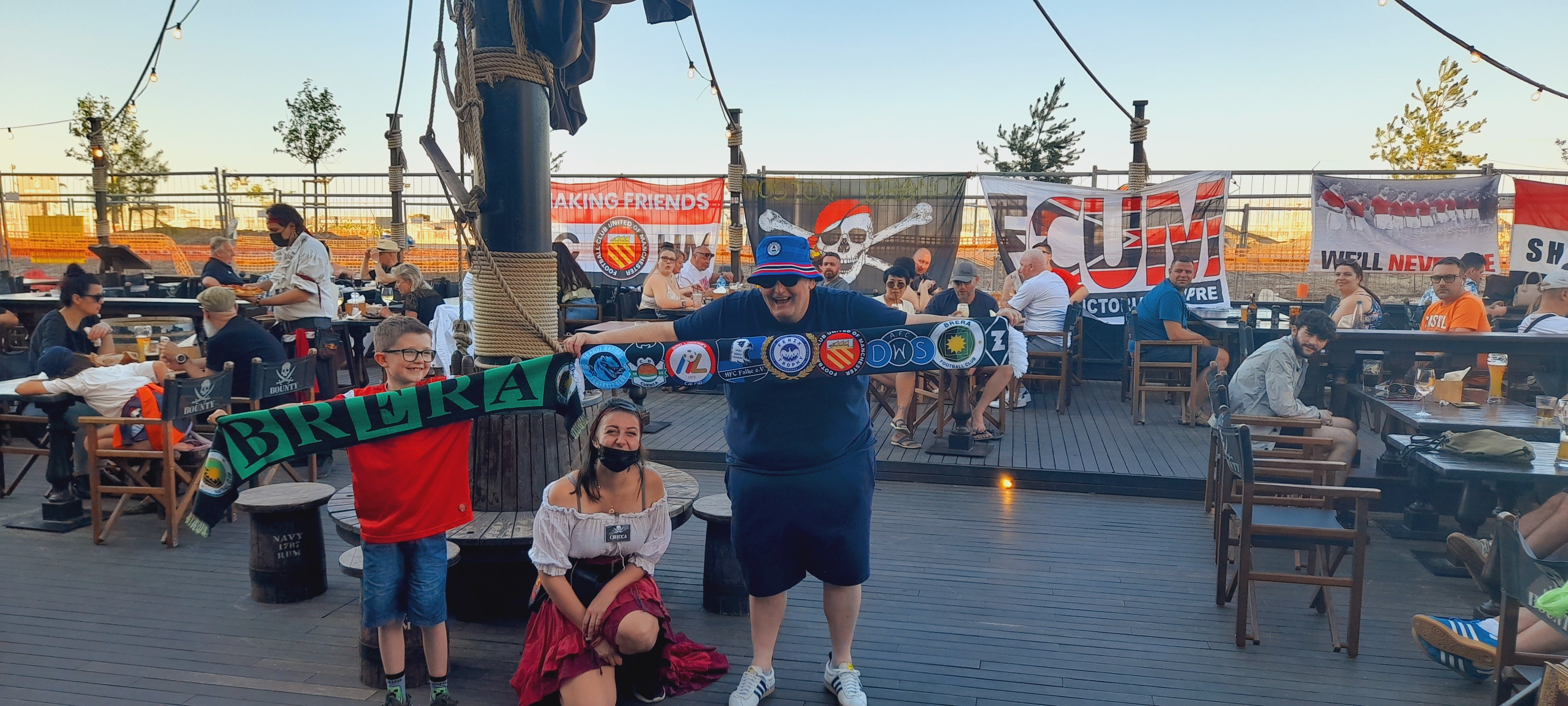 It was really interesting to watch the game between the two Italian sides, neither of whom wanted to go for it, with not conceding appearing to be more important than trying to win. It's non-league though and mistakes and goals are never far away and mistakes inevitably led to goals and a 1-1 draw was settled by penalties in Brera's favour. A proper Italian style match. There were plenty of fans from all of the other teams in the Rimini stadium, and the place looked great.
After the game we had a great time chatting to Alessandro Aleotti, the chairman of Brera and instigator of the Fenix Trophy. Tommy told him how he had been to every match the FC had played in both home and away, and how much he had enjoyed the different experiences in each game. I think Alessandro was either really impressed by my young fella, or just generous, probably both.. as he proceeded to take his third place winners medal from around his neck and present it as a gift to Tommy… what an amazing gesture, and that medal now has pride of place in Tommy's Fenix memorabilia collection.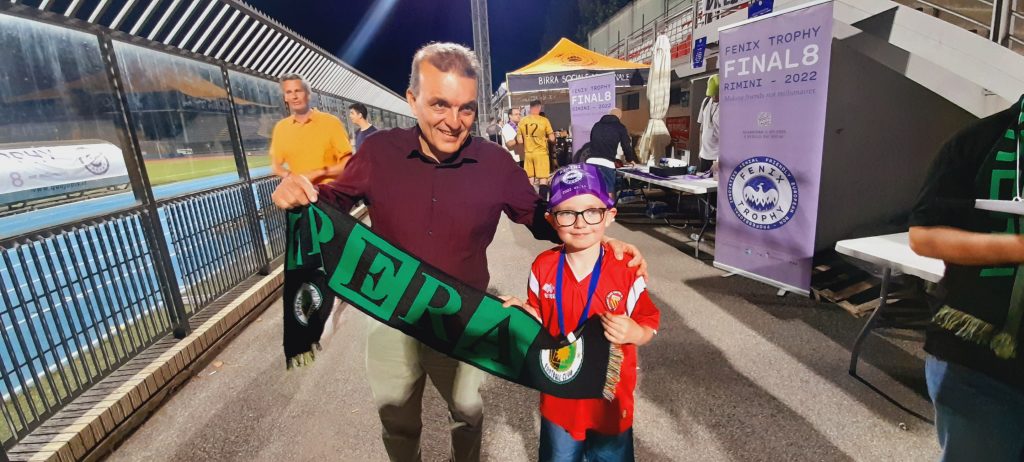 The next day was FC Uniteds big day out, as winner of group B we were due to play the winners of Group A Prague Raptors in the Final.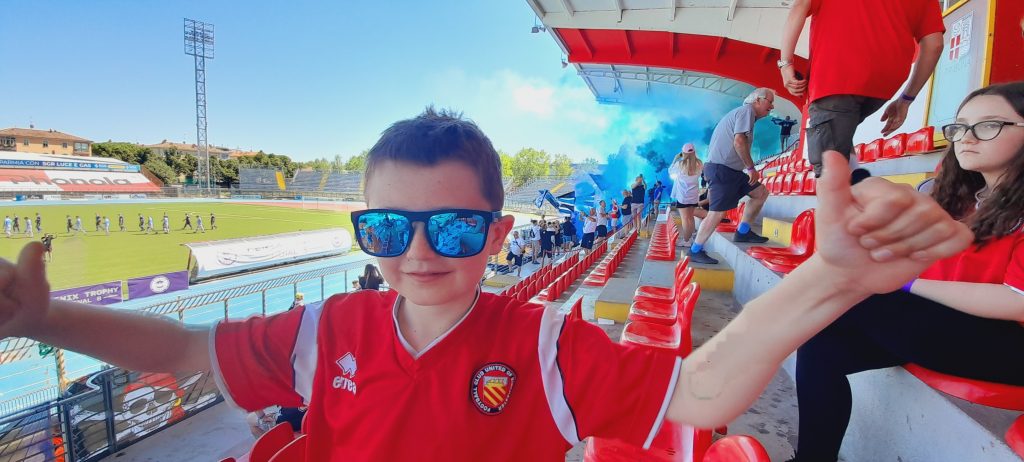 Before the Final we watched the other teams from the tournament play. The heat in the stadium was something else and as we watched the games between AFC DWS Amsterdam vs Cuenca Mestallistes of Valencia,  and then HFC Falke (of Hamburg) vs AKS ZLY of Warsaw.
A brilliant rapport and friendship was kindled between the fans of the different teams from around Europe, each group supporting the teams that they had previously played in the group stages.
After Brera's Friday nights dull win over Lodigiani we were particularly happy to see our Polish friends from Warsaw AKS ZLY win in great style against HFC Falke (a team from Hamburg who had a great set of vocal supporters)
After the AKS game, Tommy and I went to find the AKS goalie Diego up in the stands to congratulate him. We'd  thought up a little football chant for him and Tommy wanted to sing it for him
"He saved a goal with his face
He sings with the fans he's ace
Diego oh oh oh ooh
Diego oh oh oh ooh"
Which certainly brought a smile, as he went on to tell us that even though his team had won, he felt he had played really badly.
Back to the FC Final.
We were a little worried that the FC team would find playing conditions to be very difficult. Us Mancunians are not used to having a kick about in 33 degree heat, let alone having a full blooded 90 minute cup final.
As it happens Neil Reynolds the FC manager, played his hand of cards well. FC went out from the whistle at full steam, and soon picked up a two goal advantage. The team then played the remainder of the match at a more pedestrian pace. It wasn't a classic in terms of football but off this pitch up in the stands history was being made. A lot of beer was consumed.
At the final whistle FC had maintained their 2-0 lead, and the reaction of the 700 or so FC fans who had made the trip to Italy was something else. A few beers had been consumed and the fans went wild.
The obligatory red flares were being let off all over the main stand, and the air was thick with smoke…. Through the smoke we could see the players and management dancing with delight as they raised the Fenix Trophy aloft.  The celebrations really started, quite a few of the kids including Tommy got onto the pitch and had a go at lifting the cup (I'd had a few glasses of Moretti by this time and the photos I took at this time were quite poor ).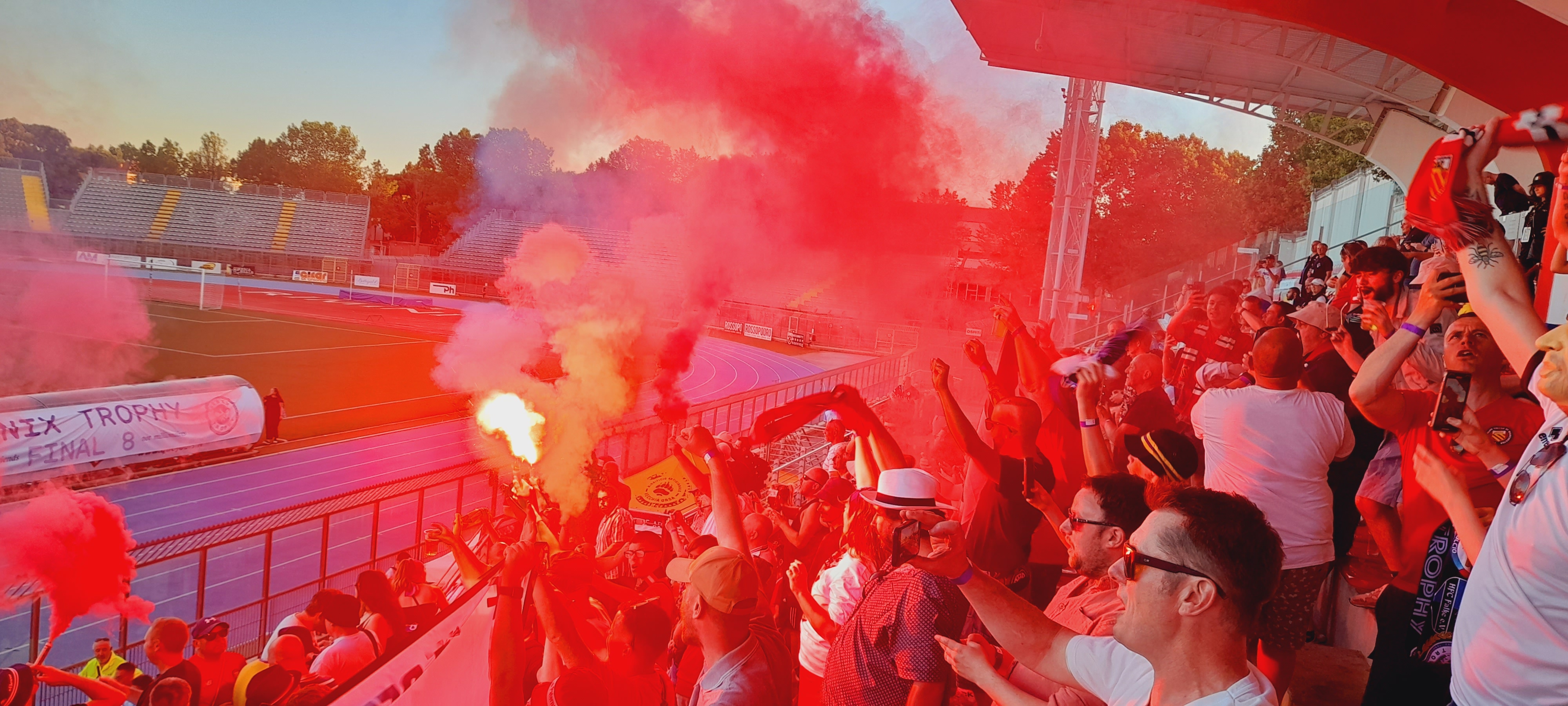 What an amazing experience.. for us as fans, watching our team win a UEFA sanctioned European Cup, and for the players taking part in it. Who would have thought that FC would be playing in a Euro Tournament let alone winning it.
Well done to the FC team… and then it was back to the Rose & Crown, and the Bounty Bar to celebrate all over again.
As I had a nine year old with me, I did the right thing — took him to the pub and had a few more beers to celebrate with the other fans and the team.
There is a postscript to this tale…
A couple of weeks later I received a phone call from one of FC Uniteds Directors, asking if it was ok to give my contact details to Diego the AKS goal keeper as he wanted to give Tommy a gift for cheering him up.
I'd forgotten about it and then a few weeks later a parcel arrived at my office with Polish stamps all over it.
Knowing that it might contain gifts from a goalie that were meant for Tommy and not me, I waited until after school and then gave the box to Tommy.
The young boy was delighted to receive gifts,,, the shirt and goalie gloves that Diego had worn during his heroics in Manchester…
and also the most wonderful letter… please click the photo below and have a read for yourself,,, or scroll below the photo where I have typed it out for you.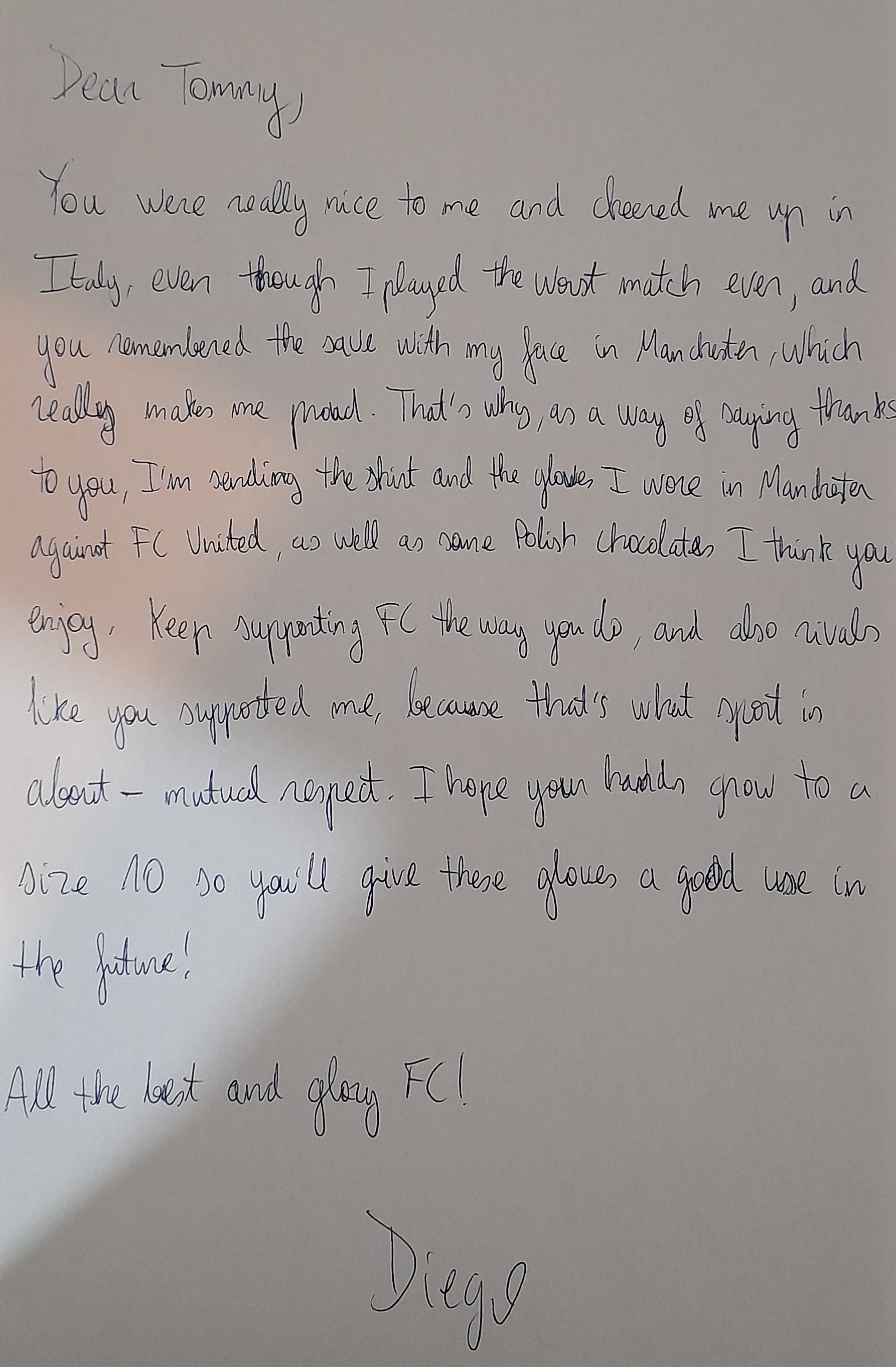 This letter is amazing – a fantastic gesture that sums up the spirit of the Fenix Trophy and of Diego… an inspiring tournament for both players and fans alike. We saw the friendships in the stands, and the fair play on the pitch… Roll on Fenix 2022/23 when FC try to defend their title, and more teams take part.
What a great tournament.