As I've said in my last few posts….. I've been doing a lot more fishing than blogging this year so I thought I'd share a bit more about how I'm getting on.
Work and family commitments have put an end to the long undisturbed sessions of the past, and I've been having to take my kicks where I can.
I'm driving round with a 7ft light spinning rod and reel loaded with 6lb braid in the back of the car and a lure box that looks like this – and with a ready rigged rod I'm ready to fish as soon as I park my car.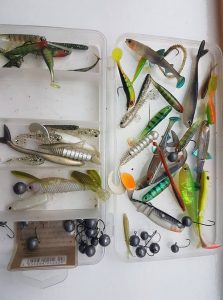 The lure tackle is a perma-fixture in the back of my car and enables me to stop off at venues for half an hour now and then to let my scratch my urge to go fishing. Most  successful lure has to be this perch pattern in the picture below. I liked them at first sight in a tackle shop, and bought two packets. Sadly I've been using them up, and only have a few left,,,,,,and like the nitwit I am… I've forgotten who makes them.
You can see from the picture that I also use two sizes of weight – 3 gram for canals, and 5 grams for bigger more open water.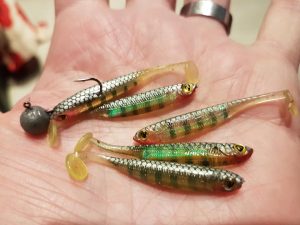 They are absolute perch nailers…. and the takes can be savage.
I drove past a local canal marina earlier this week, and had 15 minutes to spare between meetings so out came the rod. I was fishing in an instant and was rewarded with some lovely perch from around the live-in boats where perch love to lurk.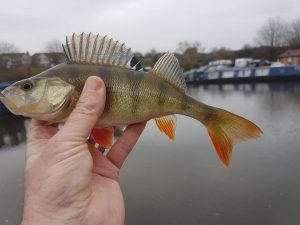 If anyone reading this knows the manufacturer of these lures can you please let me know in the comments section. I need to stock up!!