I recently turned 50 – ouch
So instead of allowing my family to inflict a birthday party on me – I organised a pre-emptive strike and booked a couple of weeks away in the sun…Tenerife this time.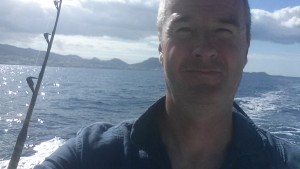 I usually take lots of fishing tackle away with me – but with a baby just beginning to toddle, and a 3 year old who is very time demanding I just didnt have the heart to dump the kids on my wife and sod off fishing all the time….. and anyway – why would anyone in their right mind have kids and then sod off fishing all the time when the early years are the best and just fly by..? There will be plenty of fishing time in the years to come.
However —- being a fishing nut – I spent the actual day of my birthday out fishing with my two great fishing pals – my dad and my eldest son.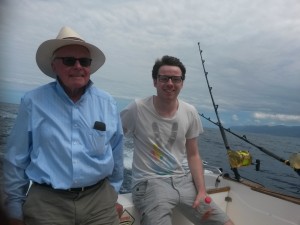 We had no real plans beforehand – so just picked a boat that was advertising in the lobby of our hotel… and we stumbled by accident across a really nice fella, who runs a great boat. www.gavinglenfishing.com  very keen angler, very knowledgable about local conditions.
A lovely boat – and very comfortable for the 5 people (including us 3) who had booked on. We spent the first half hour catching mackerel on feathers – then the next 4 hours trolling for Marlin/Wahoo/Barracuda – or whatever came along.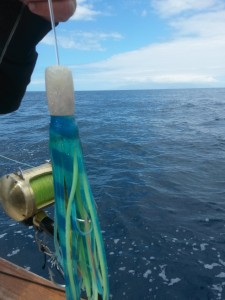 Sadly nothing came along, not a nibble, a bite, a screamer – nothing. But we weren't bothered in the least – our expectation of catching something notable weren't that high even before we booked – and the skipper was more than honest with us saying that June was a funny month – in between the excellent winter/spring Tuna season – and the thin Marlin season which usually started in the 2nd week of July. A marlin had been landed the week previously but they weren't around in any sort of numbers
And to be honest – we never really had the Canaries down as a Marlin fishing destination – it was just a family holiday fishing trip with the remote chance of a fish, and a very nice day out on the sea.
We did see numerous pods of pilot whales, and dozens of dolphins – so how could we say that we had a bad day.
Once the trolling had finished – the skipper offered us the last chance of a fish with an hour or so bottom fishing – using the mackerel we had caught earlier in the day..
A couple of rods were used with whole mackerel as bait in 80metres of water, hoping to catch some rays – and while we were waiting for bites on these rods – we baited up some lighter kit with strips of mackerel and bits of prawn and cast out to see what we could catch.
Immediately we started catching small silver Boga, more mackerel, puffer fish and a small red fish whose name I can't remember.
Nothing on the ray rods – but one did have a few clicks on the drag which i just ignored as i thought it was the bait dragging behind the boat
What an idiot I was – and missed the only bite of the day from a more substantial fish – this is what i reeled in 20 mins later – A BITE – A BIG BITE – and I missed it – duhhh
And with that – time was up – and back to the hotel for a clean up and a nice meal with my parents, wife and 3 children…
Fish or no fish – it was a great way to spend my 50th Birthday