After a tough day mulling over financial spreadsheets I wanted  nothing more than a few hours of peace and quiet on the river after work.  A quick trip to the tackle shop turned into a slog through the traffic, and a swift in and out at home turned into a chat with the wife and kids about their day and me being sucked into sitting down with them for tea.
I didn't get to the riverbank until 6.30pm  but when I finally arrived the excitement rose as it looked spot on.
I set up with 15ft Drennan float rod, my trusty old Abu 506, and a 5bb stick float – bait…. just to see what was there… a single maggot on a size 18 hook. Having fished this swim a few times over the last couple of years I wasn't really expecting too much as I've still never had as much as a bit from it (despite recent reports of chub and dace being caught from the opposite bank). Over the years I've been present at the stocking of more than 40,000 fish into the Irwell,, many of them going in at this exact spot… I've still to get a bite here,,, but god loves a trier !!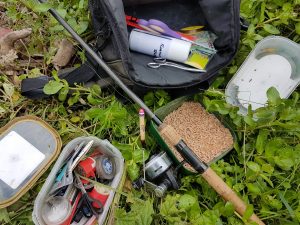 And my luck hadn't changed from previous visits, as an hour and 15 minutes later I still hadn't had a bite.
Now in recent times, fishing time has been limited and I didn't want to be wasting a whole evening on a swim that might be devoid of fish…. so a move was in order…… upstream/downstream decisions decisions….
Downstream was the choice .. and I settled down in a fast pacey swim where I've previously caught good nets of roach.
First run through in the new swim resulted in a smashed maggot, second run through a fine plump dace of about 6 ounces.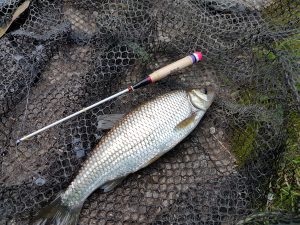 I had a bite a chuck for the next two hours – packing up on the dot of 10pm – as the bells of Manchester Cathedral tolled in the distant back ground (take that as a hint).
The dace were aggressively but cunningly attacking the single maggot as it ran through the swim… if I let the bait run with the flow, the bites didn't register and I came back with a smashed maggot…. If I held the bait back to about half the speed of the flow then the fish self hooked themselves, especially as I moved a size 6 shot to within about 4 inches above the hook.
Mixed in with the dace were the usual aggressive trout – I landed two decent fish of about 2lb, and got smashed by one much bigger, that just hurtled off across river like an express train. My light silver fish gear not really being up to the job of hanging on to a big bucking bronco brownie.
I reckon that I had close to 20lb of fish in the last 2 hours – and might go back again in the next week or two with a keepnet and get a nice net of fish and share the picture.
Here's the smaller of the two browns that I landed – a lovely fat fish.