Over the years I've had many happy holidays on the Spanish Island of Feurteventura, but have done very little fishing whilst there. The harbours are full of mullet which grow to huge proportions fed on the bread and pellets thrown to them by tourists, and the harbour walls home to a huge variety of brightly coloured semi tropical fish – but sadly most of these accessible areas are off limits to fishermen.
The only time I've ever taken fishing tackle with me to Fuerteventura was on my last visit in 2016 – but despite picking up a little local knowledge as to the hots pots for catching Bonito and Bluefish from the shore – the pressure of having a young family ( 12 months and 3 and a half years old) meant that the suggestion of going fishing for any length of time was met with a death stare from my better half. I did manage half an afternoons fishing (spectacularly unsuccessful) but at least i had the right lure, the right method and the right location – it was just that the time of day, the tides and the wind direction were all not in my favour – you can have a read about it here   http://fishingfiend.net/holiday-fishing-fuerteventura/ 
Of course I ended up catching nothing but a cold, but did learn a lot about what to do and what not to do when restricted to short fishing sessions on holiday. I also had a great time messing about in rock pools with my young son Tommy catching all sorts of little fish, urchins, shrimps etc. Hopefully passing on the fishing bug to him at an early age.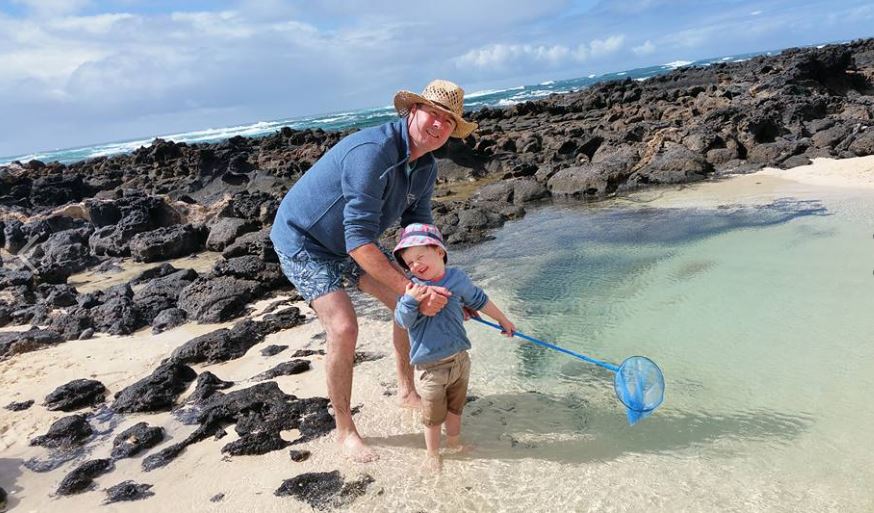 So fast forwards to December 2019 – it had been raining (or it felt like this anyway) for months, the weather was miserable, we had been expecting to spend some family cash on a house extension that never happened, and we were fed up. I asked Mrs FishingFiend how she would like to spend her birthday (1st Jan) and her reply was simply "on a beach!"
I didn't need any more prompting, and with the thoughts of TUNA FROM THE SHORE" pinging about at the back of my head – I suggested that a return to Fuerteventura and a return to the lovely family (FISHING) friendly resort of Caleta De Fuste…. not only does it have everything for a young family it also has a fishing tackle shop with a very friendly owner called Aram who has a full range of tackle, bait and is free with passing on (some) of his local knowledge.
So… a quick online search for a last minute holiday over the New Year period ensued and by very good fortune we found somewhere within budget. Yee Haaa.. A quick chat with the missus about taking some tackle and being set free from family duties and YESSSSSSS space was agreed for two travel rods and a bag of kit.
I played my hand of cards.. no fishing suggested for the first few days of the holiday, and lots of family time… but then a quick nip into the tackle shop to buy a new lure set the agenda for the remainder of the holiday.
The coast around Caleta De Fuste is very rocky, and in places there is deep water very close to shore. These deeper areas mean that Barracuda, Blue Fish and Bonito are within casting distance of the shore – and if you take a look at videos on Youtube like this   it really wets the appetite and makes you want to target these fish. The location where this video was taken is actually from the rocks in the centre of the resort. And only a 10 minute walk from where we were staying.
So, with the hope/expectation/ridiculous dream that I was going to catch something special I splashed out 22 euro on an imported Japanese Yo-Zuri heavy sinking minnow from the local tackle shop. It certainly caught the eye… but would it catch any fish ?
Well the answer is that it caught my eye, but not the attention of any fish. I fished this lure for an hour off a rocky point behind the Elba hotel without a touch. I'll get my excuses in early again – wrong state of tide, wrong time of day lol. However, after being given an hour of peace and quiet the kids turned up and I received the scorn of my family for not catching. Especially when my 4 year old daughter managed to catch a wrasse from a rock pool with her bare hands. Ego shattered – I retired a beaten man to a local bar, bought a beer and watched the kids playing in a park.
To be truthful I was more than a bit peed off that I hadn't had a touch… especially as there are so many fish on view in and around the harbour (no fishing zone) and on the main beach (another no fishing zone) where there are so many fish that if you chuck in a bit a bread you can have 100s of them swimming around you within minutes.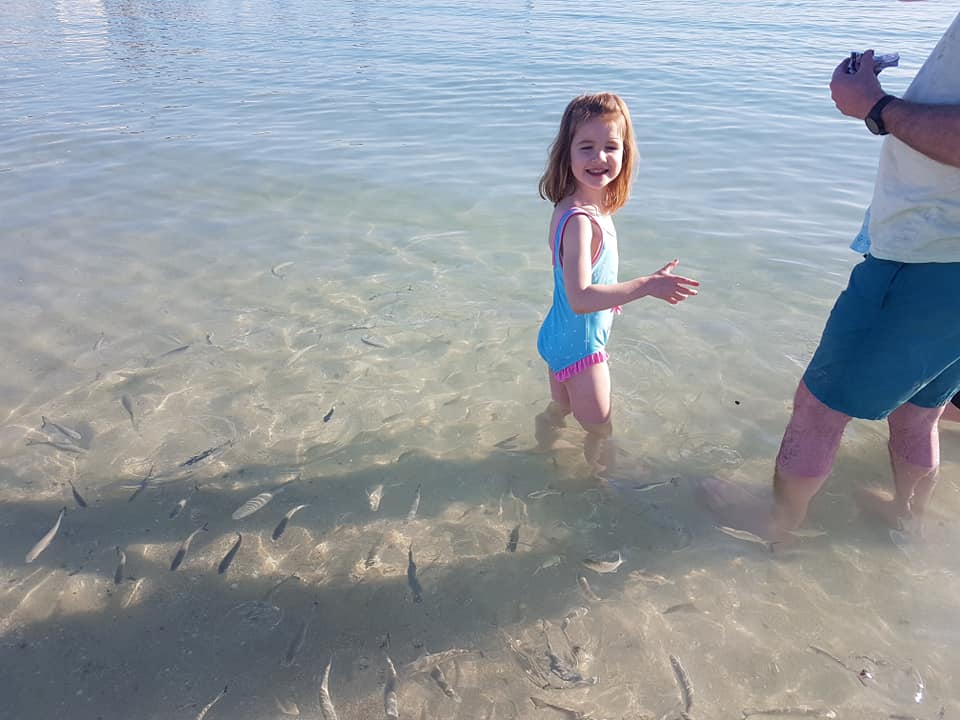 So back to plan B brought a small telescopic travel rod with me, a small reel with 6lb braid, some 3lb flouro and a box of shads, dropshot lures and my secret weapon Isome Worm.
The next day, the family fancied a bus trip down the Island to the next main town called Gran Tarajal – and I stashed some kit away in the family beach bag.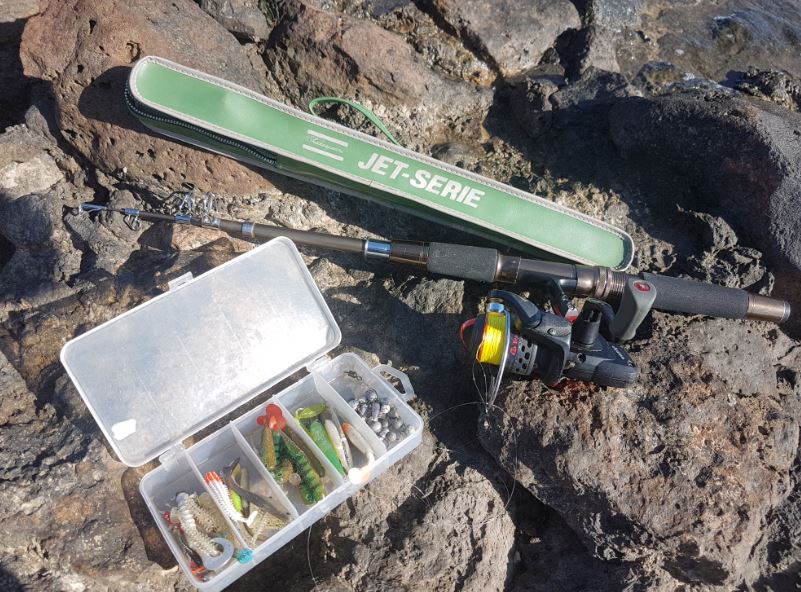 After a walk around the rather nice but dull port of Gran Tarajal, we hopped onto another bus to visit another little town called Playitas… Playitas interested me because it has a little pier/wharf where it looks as though fishing would be possible from the end, and also from some of the cliffs nearby.
I was right…. and quite delighted when we got there as it looked like a perfect spot for a bit of light lure fishing. First cast resulted in this little ornate wrasse.
And then came a succession of small fish to a variety of jigs and on the dropshot with Isome Worm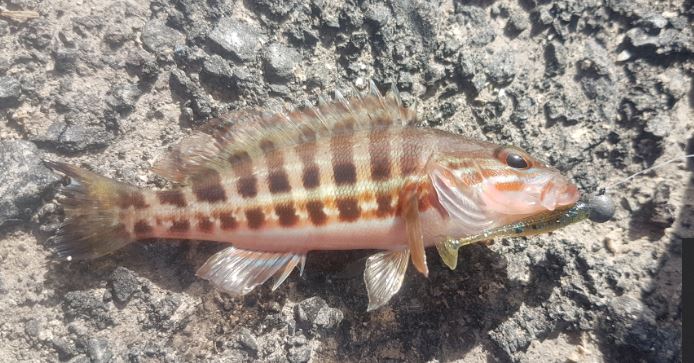 The kids really loved sitting down and catching these pretty fish
Especially when I started to catch a succession of these small Madeira Rock Fish…. which I didn't realise had poisonous spines until someone told me later… They were pretty though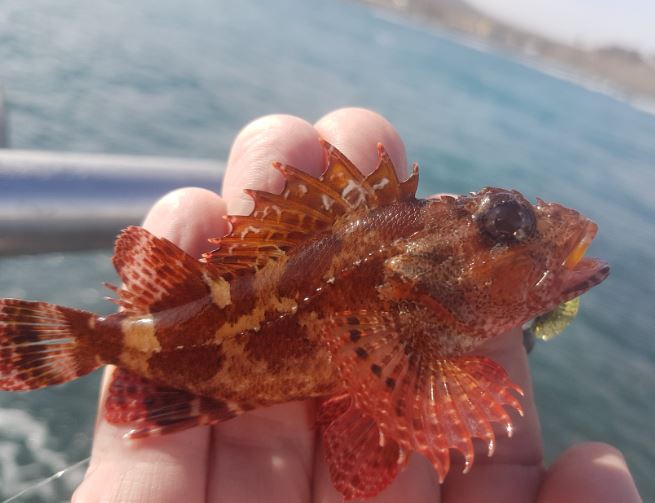 The best method by far was by using a small piece of Isome Worm on the dropshot rig – the fish absolutely threw themselves at it. I also had some other flavoured worm that was bright red in colour but the fish wouldn't touch it.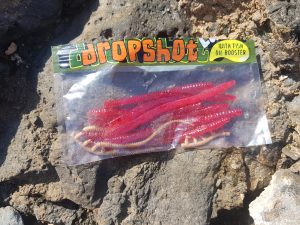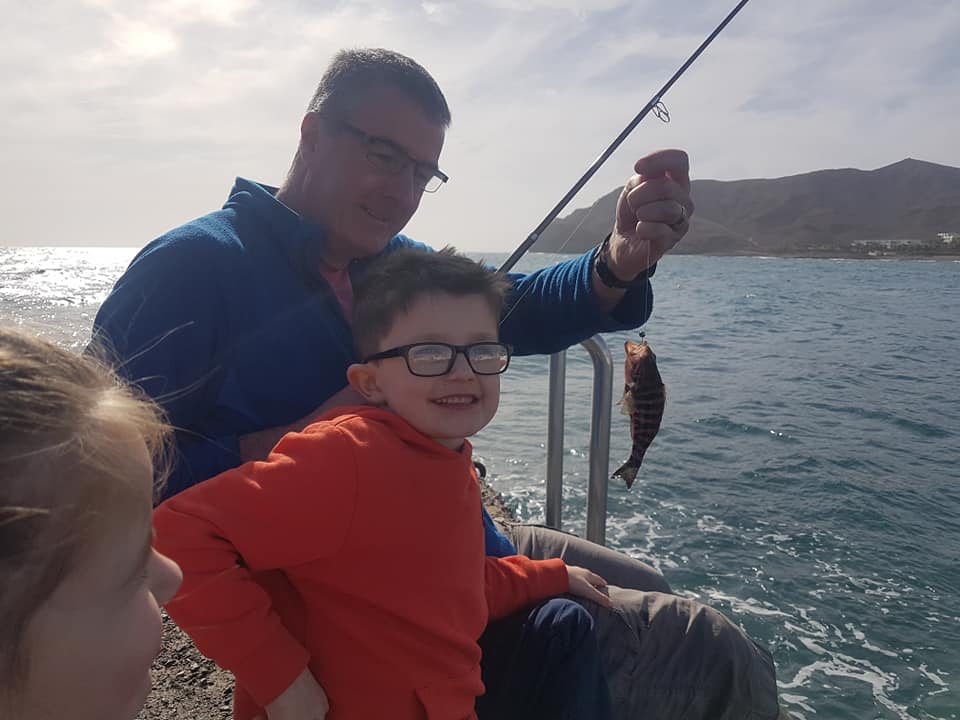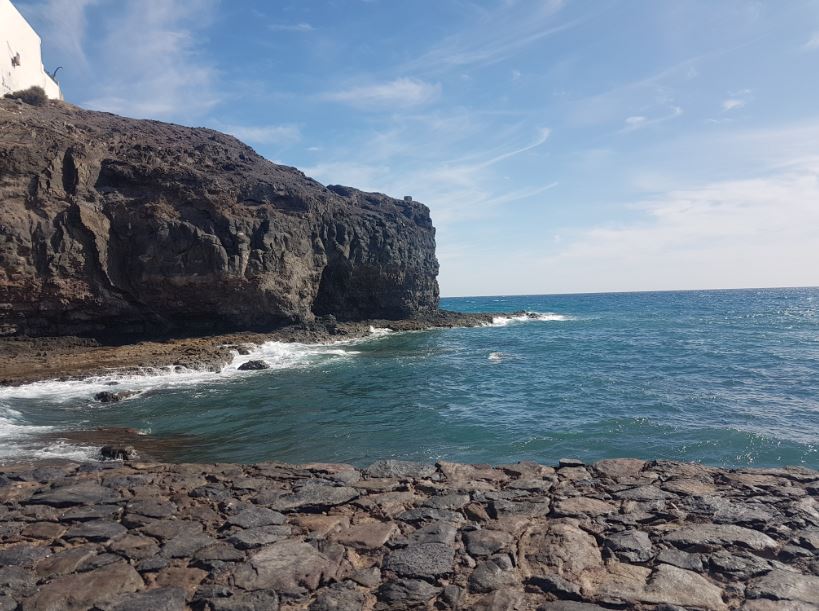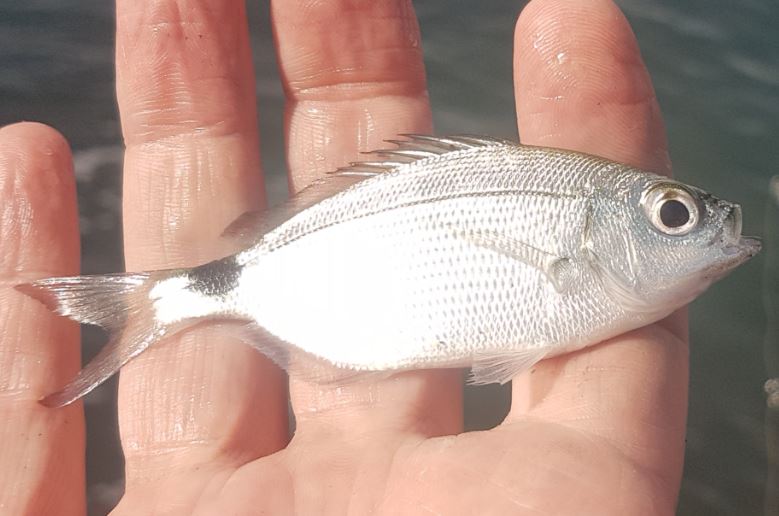 Now that the kids had caught a few fish,, they fancied having a go for some more. So the next day we headed off to Puerto Del Rosario the Islands capital, to spend a bit of time on the beach and also so that Tommy and I could get our Saturday fix of football when we watch Rosario beat another local team 3-1 (2 sendings off, 10 yellow cards, a dodgy ref, and a very poor standard of football) which was great entertainment.
I had a look on Google Maps and it looked like there was good fishing into snag free water at the end of the rock groyne that protected the beach. See pic below
Tommy and I had half an hour on the jig head shads me casting and him retrieving but we couldn't get a touch, but as soon as I swapped over to drop shot Isome worm we quickly caught half a dozen of these small fish which I haven't a clue what they were but have been told that they are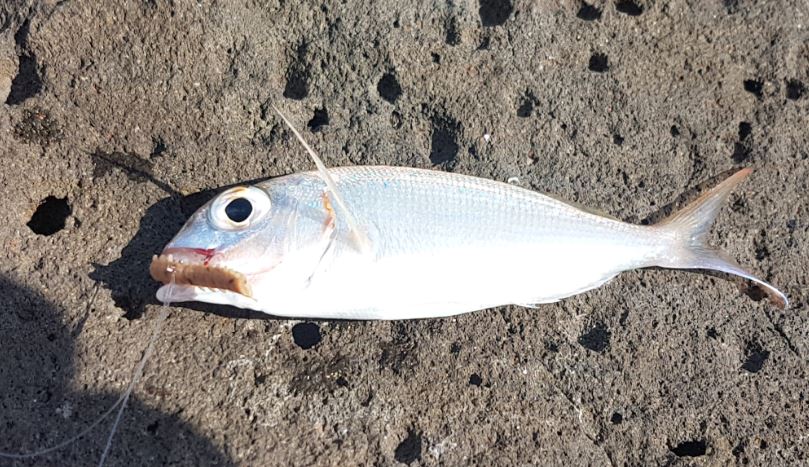 The rest of the holiday was spent playing with the kids on the beach at Caleta but I did manage an hour off the low rock ledge to the right hand side of the beach and had this lovely fish (again I have been told that it is a Dusky Grouper) on a small shad.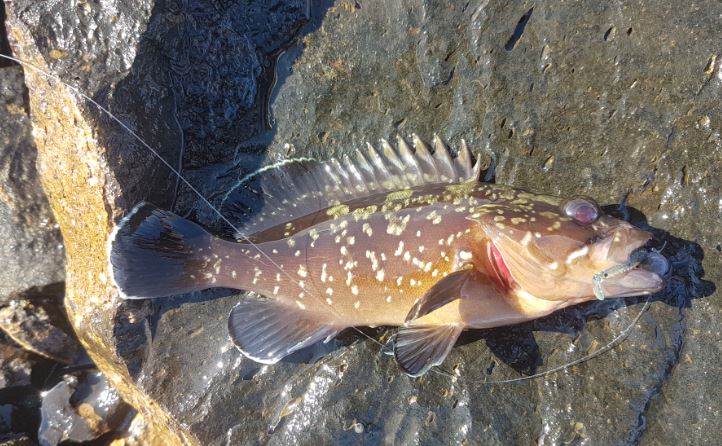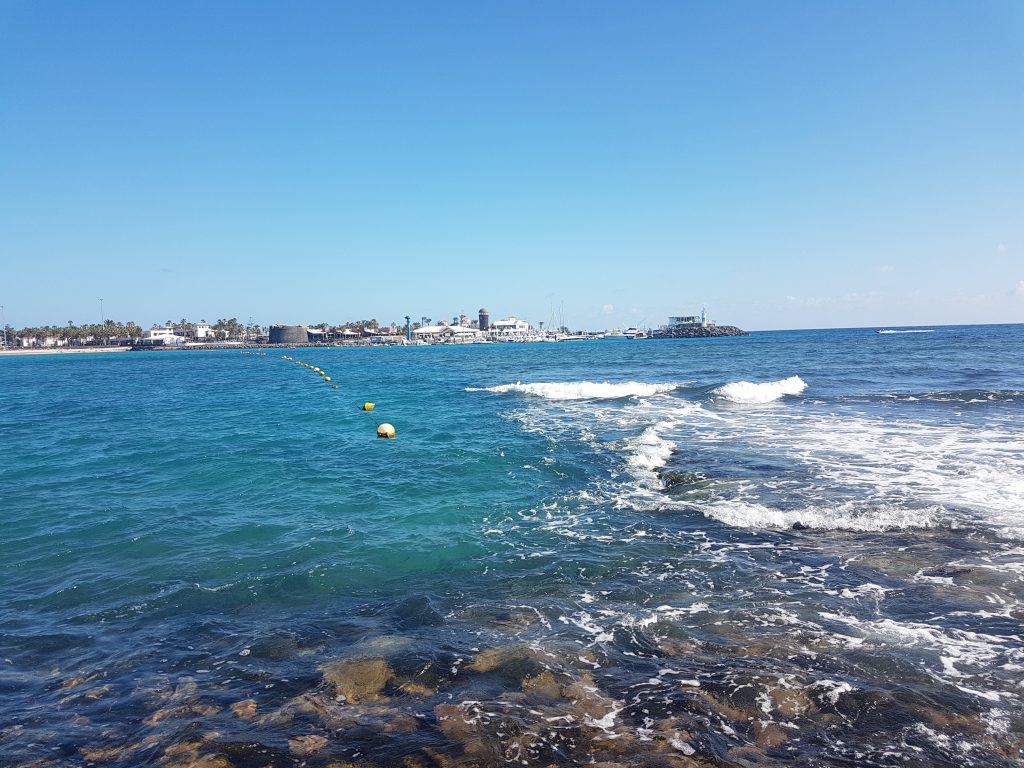 On the last day of the holiday, the kids fancied having a bit more fishing so I thought it would be good fun to have a see what was swimming in some of the bigger rock pools. The area north of the harbour in Caleta De Fuste has some smashing rock pools that are exposed at low tide… though great care needs to be taken with the kids not to let them too close to the sea as there was quite a strong swell.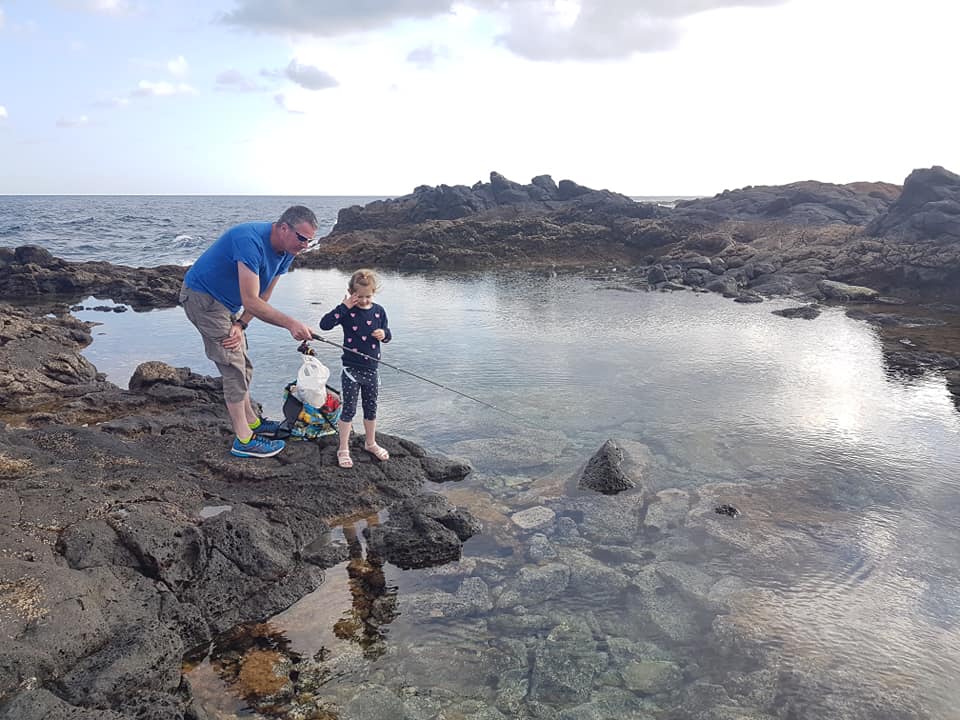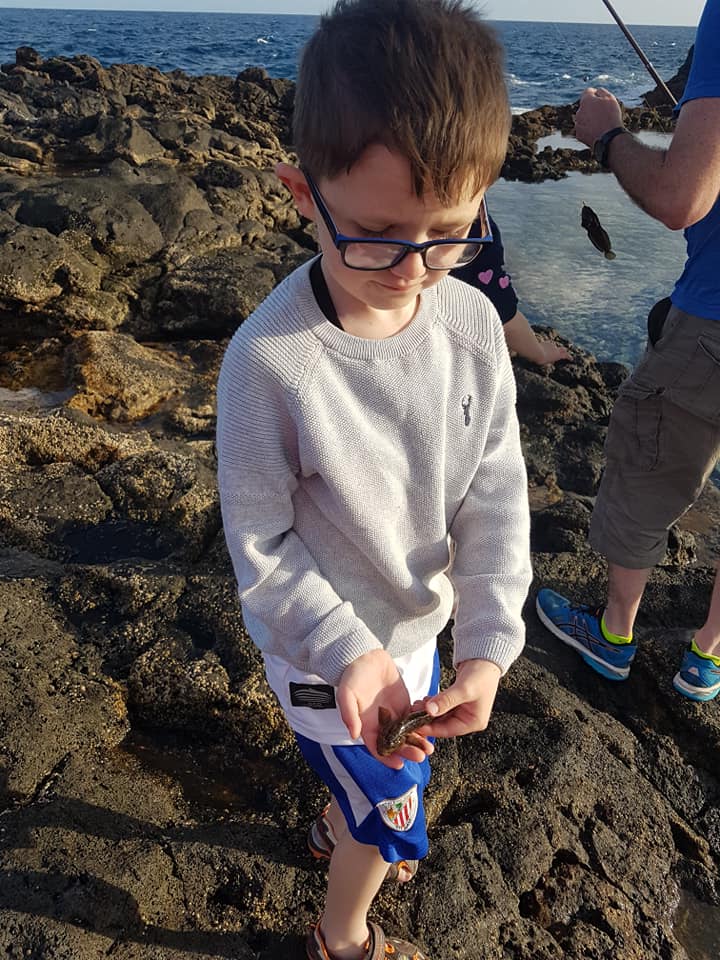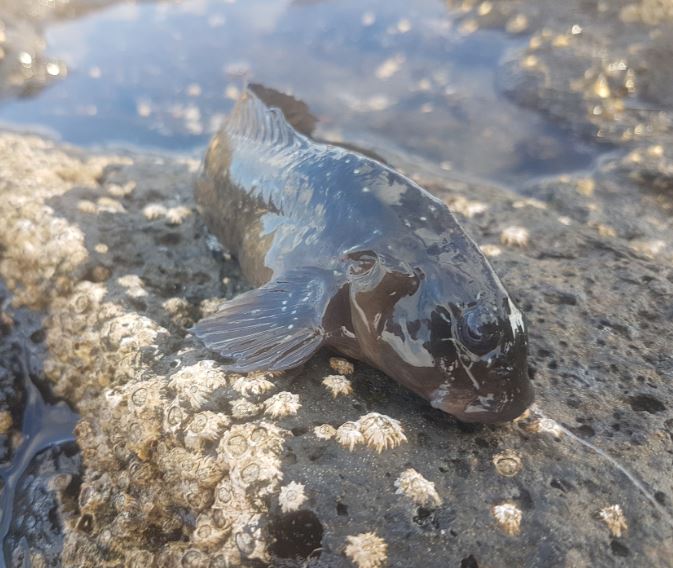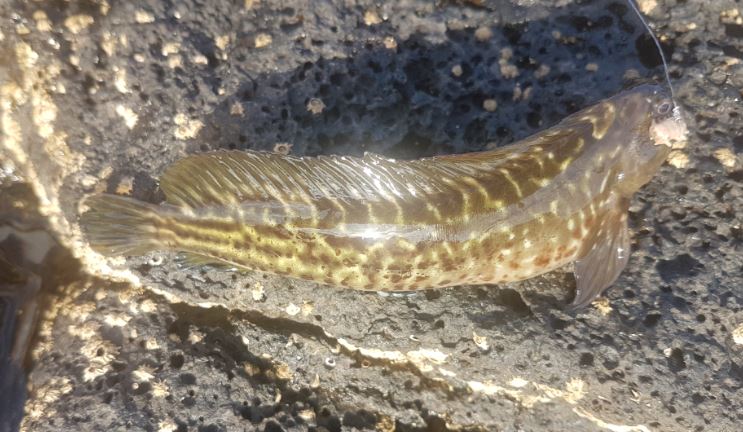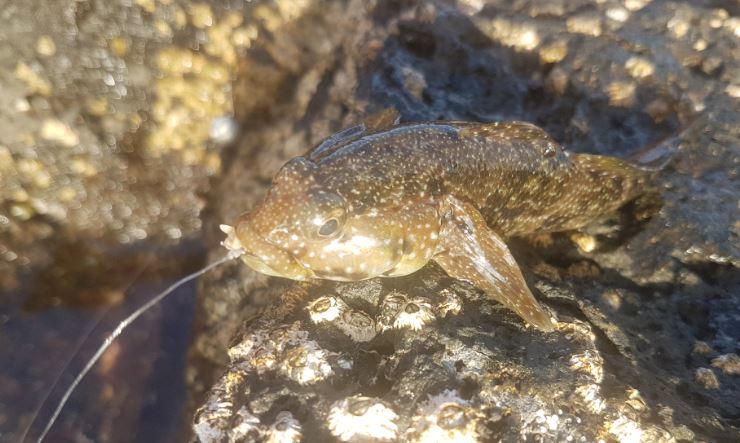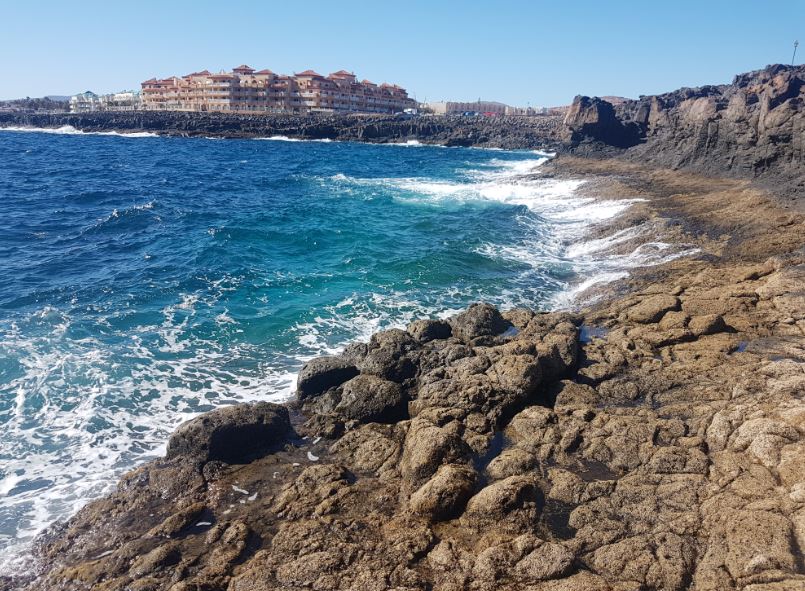 So with a heavy heart – we went back to the airport, boarded our plane and returned home. I still haven't managed to catch a large fish from the shores of Fuerteventura but I guess I never will when family time is the priority. Some early morning or late evening sessions would be necessary and plenty of time would need to be devoted to it…. which just doesn't fit well with a family holiday with young children. Nevertheless it was a great way to start the year and I'm really looking forwards to more fishing adventures both alone and with my little fishing apprentices in 2020