To be geographically accurate, I was actually fishing Birkenhead Docks. But everything down the western end of the M62 is classed as Liverpool to me.
My wife has been asked to do a few weekend shifts recently which has resulted in me taking the kids out fishing with me a bit more. They can usually manage a couple of hours before they get too bored and start misbehaving. Today was about par for the course. A bit of fishing, and a lot of Nintendo in the back of the car … we all had an afternoon doing what we enjoy.
I did actually try to fish this venue on Saturday evening, but as I was driving westwards from Manchester, the weather was getting worse the further I drove, so not fancying a soaking I just turned round and went home (via the offie).
So – with a bit of tesco raw prawn (frozen only £3.99 for a big bag- bargain !) as  bait, I set up two rods, with what I call one up one down rigs and 2oz lead. Small pieces of prawn on size 6 hooks… one rod cast about 40 yards out, the other dropped in down the side.
The venue is new to me, and I just fancied having a try. It was an easy place to go fishing and look after the kids at the same time. You can fish out of the boot of your car if you really wanted to. Species wise, I didn't really know what to expect. Phil and I had fished the other end of the dock the previous weekend, and had a few small whiting. But I'd seen photos on various fishing forums of flounder, cod and even Lobster – but it was the Butterfish and Herring which really sparked my interest as I've never caught these species before. Liverpool Docks and the Mersey really does throw up some amazing unexpected fish and I was hoping for one of these for my species hunt.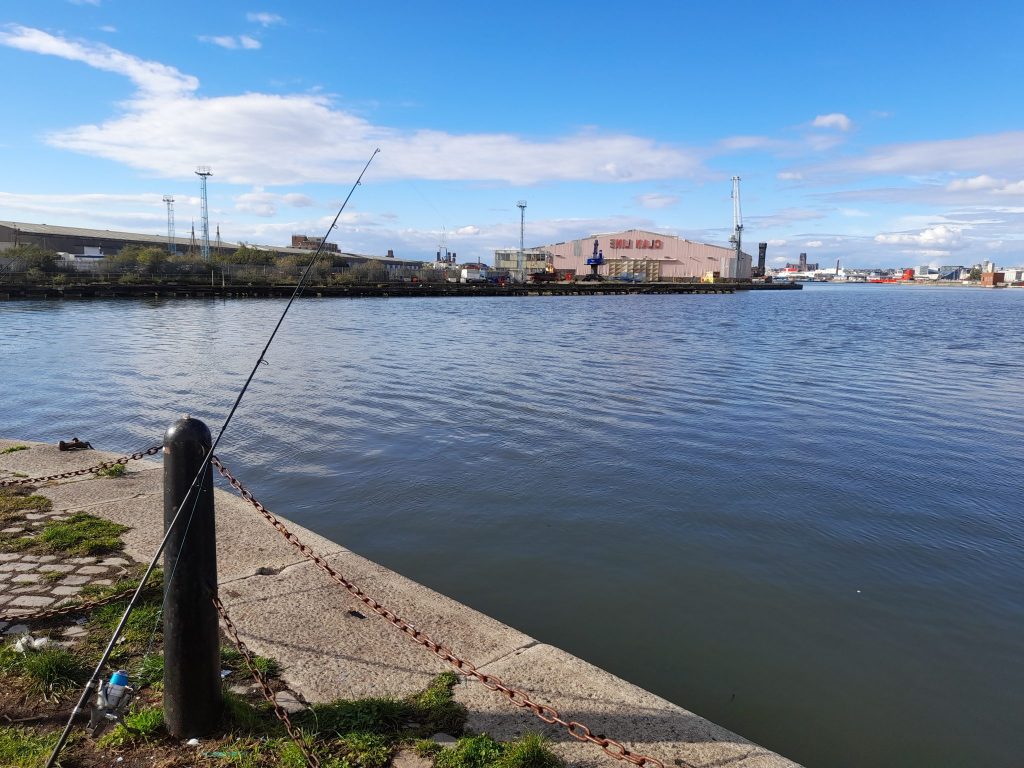 It took about 5 minutes and the tip of the close in rod started to rattle, and we reeled in to find the first of many small Whiting on the end.
We had steady sport for the full two hours, without any lulls in the action.
Most of the fish came to the close in rod, and only a few from further out.
Nothing big, but the kids were delighted with the constant sport.
Hope you enjoy the video, sorry about the crying child !
Hopefully a bit of pike action next weekend ….
If you are interested in giving this spot a try — here's a map