I'm relatively new to this sea fishing malarkey, and even fresher round the gills when fishing afloat. After weeks and weeks of stable high pressure over the UK the wind has turned westerly and the previously pancake flat sea turned decidedly lumpy.
I had a quick trip over to the Fylde coast again, only to be met with conditions like this…..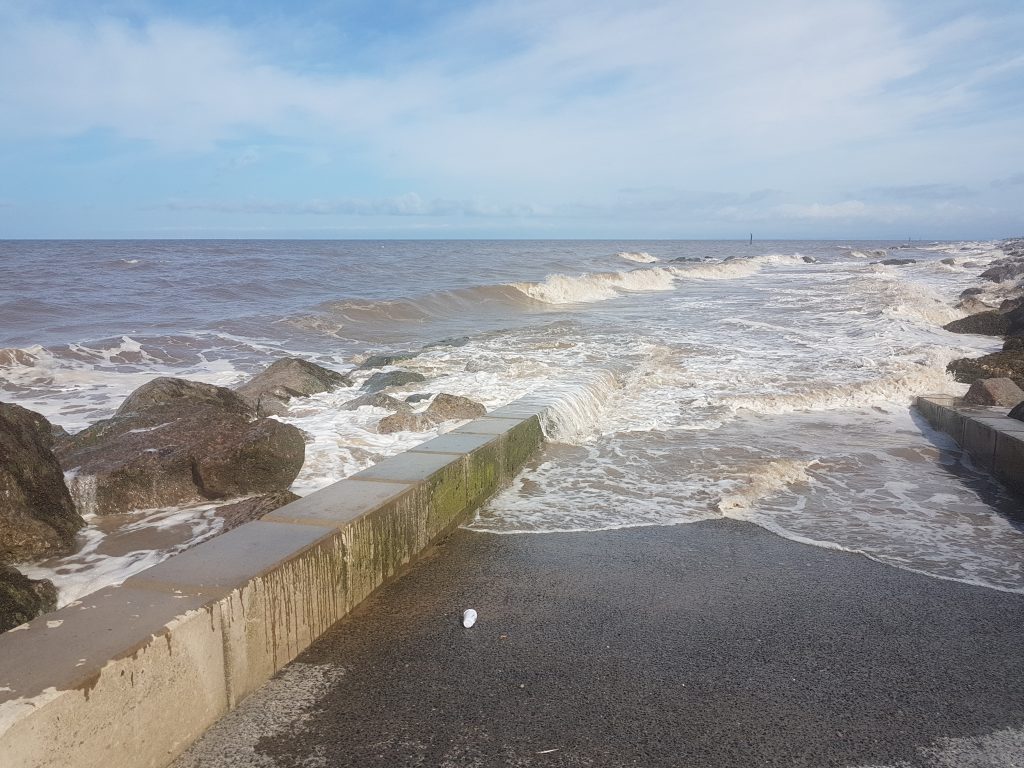 So seeing as though our slipway was far too dangerous to launch from, and there were waves crashing onto the beach at 5 bar gate nearby, and the sea was more than a bit lumpy further out at our chosen fishing location we decided to retreat back to the safety of the car and think about another destination for the day.
We could have fished at Marine Beach in Fleetwood – but we only had boat gear with us and not beach casters – so a quick return trip back to Manchester to regroup was necessary. In the car on the way back home, we briefly discussed driving across country to the East Coast near Bridlington as an onshore wind on the west coast would be an offshore wind on the East coast and the sea conditions might be a lot calmer. We were put off though by the long 3 hour drive. So back home it was. We also considered unloading all our sea kit, and swapping over to do a bit of fly fishing on Stocks Reservoir but we had loads of bait to use up which would otherwise go to waste.
A cup of tea and a sandwich later, Phil and I finally decided to have a try at Perch Rock at the mouth of the Mersey Estuary. We loaded up our beach casters, and an hour later we were set up on the beach for a 3 hour session – 2 hours down to low, and then an hour back up.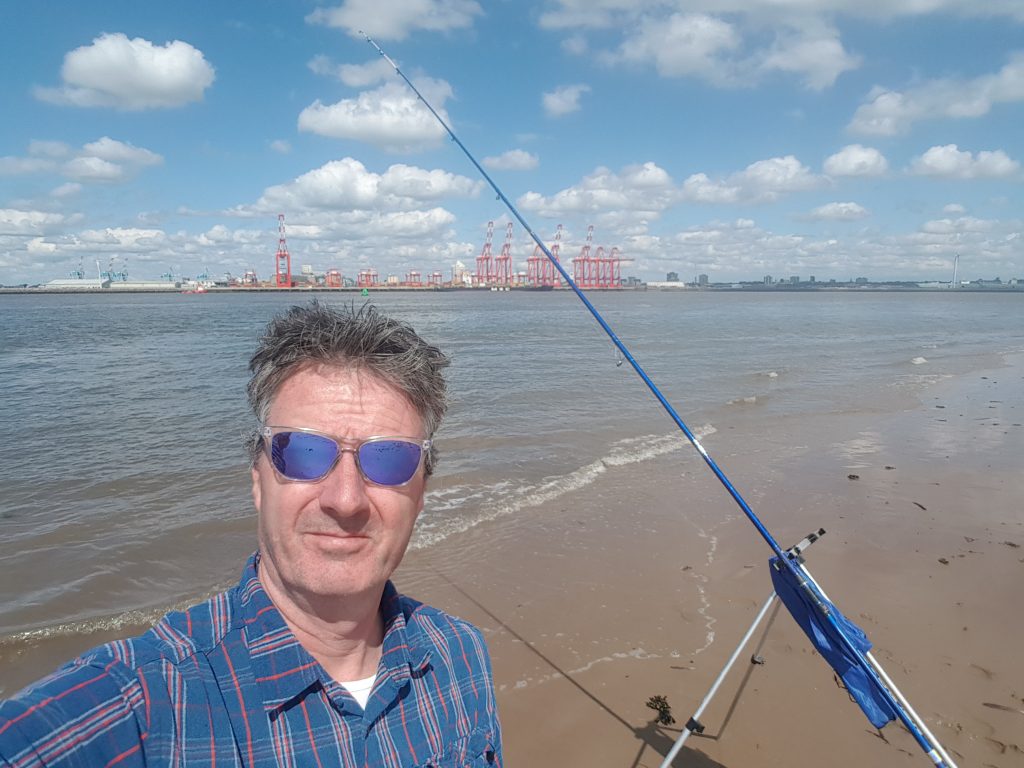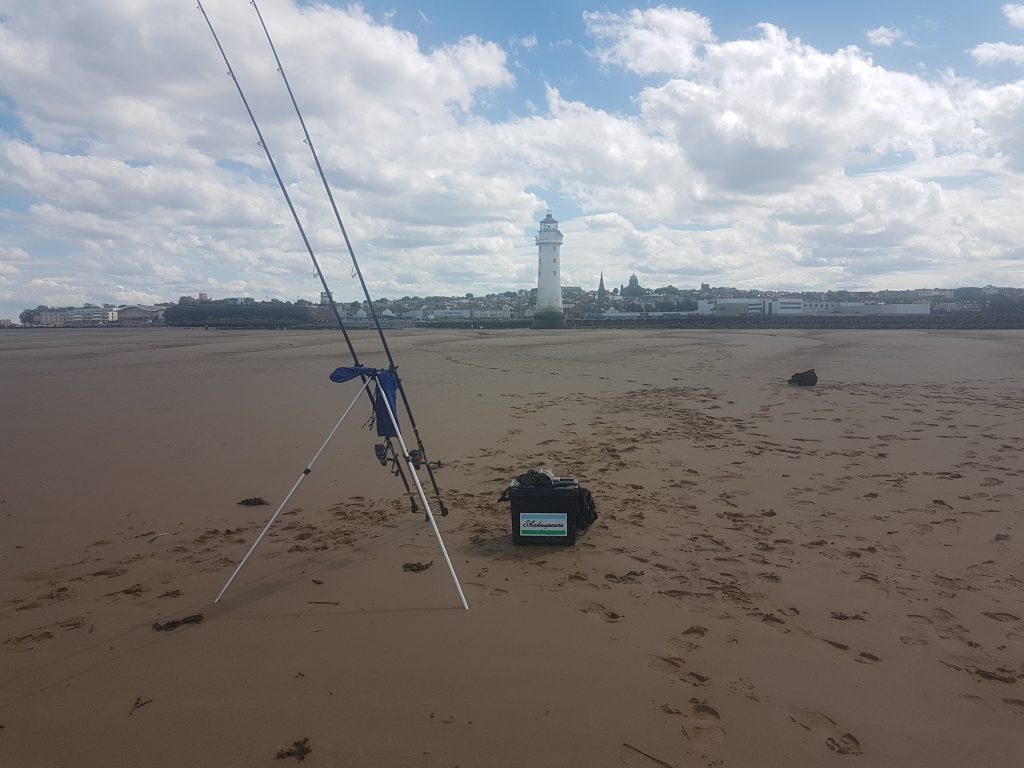 Everything looked perfect for a fish or two, the anglers to our left and right were catching Thornback Rays and Smooth Hounds so surely it was only a matter of time !!! — but you know how we roll on this blog — the only action we had for the first two hours was with the voracious crabs which were stripping our baits in less than 10 minutes.
It became quite frustrating, our rod tips in constant mini motion – not enough movement or rattle to strike at – and then to reel in bare hooks as a reward.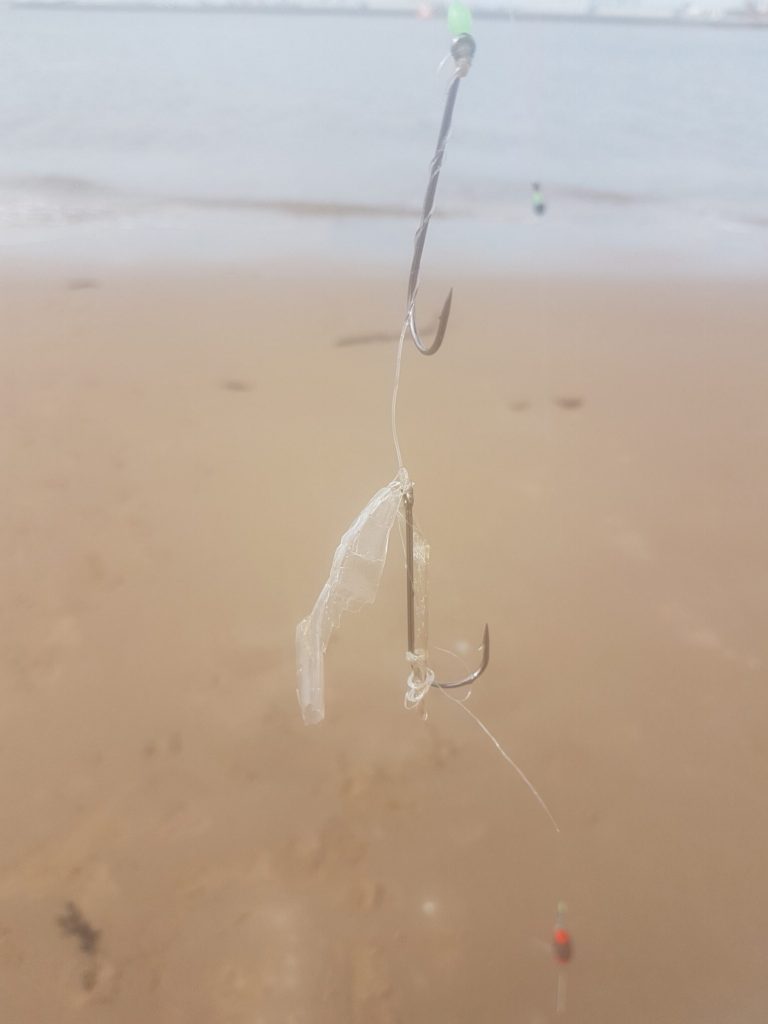 Eventually I got a nice positive rattle of the rod tip on my worm rod, and I landed this very welcome Flounder – my first Flounder of the year, and an addition to my Anglers Challenge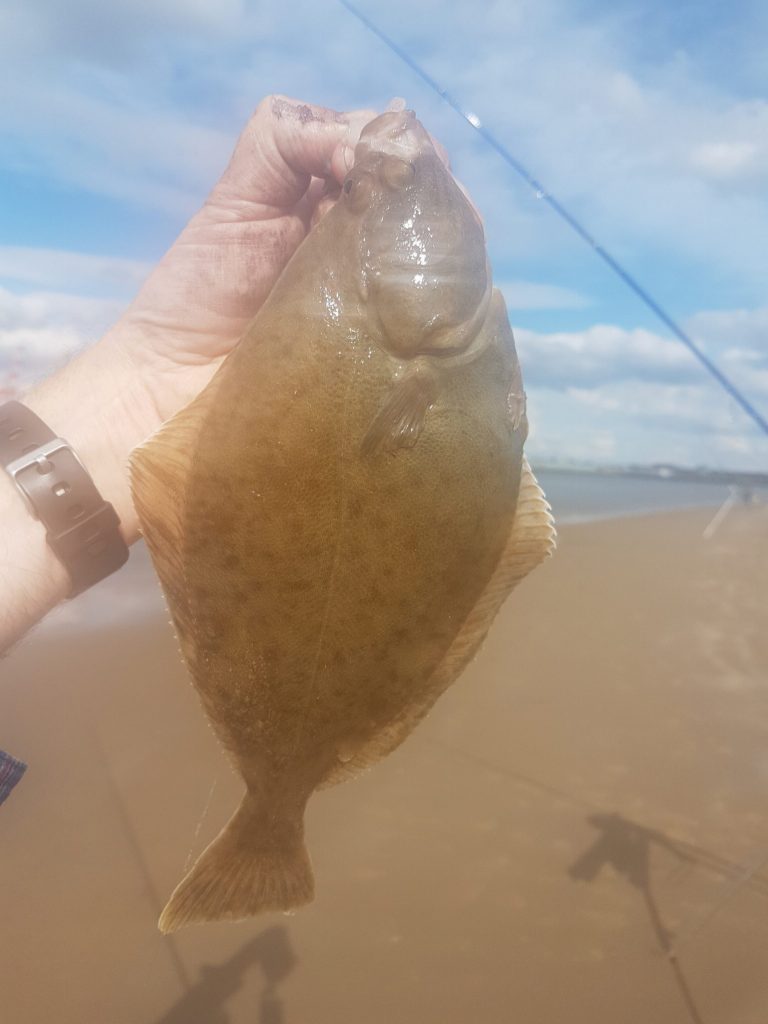 Sadly – that was the only action of a three hour session – the crabs were relentless – and they were stripping our baits before the fish could find them. The anglers around us were fishing crab baits – and they seemed to fair a little better catching a few fish, but getting through lots and lots of very expensive peeler crab bait.
As the day was still relatively early, and my wife and kids away for the weekend with the in-laws, I persuaded Phil to hang about for a bit, have some fish and chips and then hit the evenings high tide at Mariners Wharf on the other side of the Mersey estuary seeing as though we still had loads of bait left.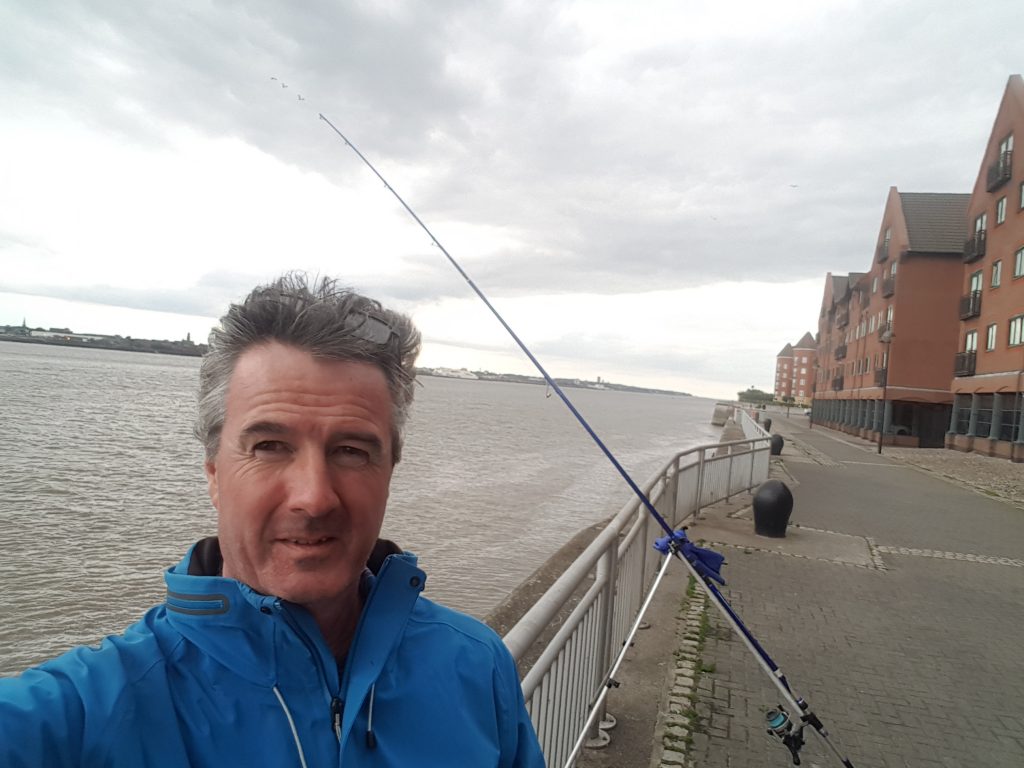 We have fished this spot quite a few times before and there is a noted snag which we avoided by a good 50 yards. Sadly it looks as though recent storms have washed a new one into the area, and both of us lost a fair bit of kit to a snag which we hadn't encountered before.
If the snag didn't get us, then Liverpools "Attack Of The Killer Crabs" did. Just like Perch Rock earlier in the day, they were relentless, even more so as they didn't let go of the baits as we were reeling in.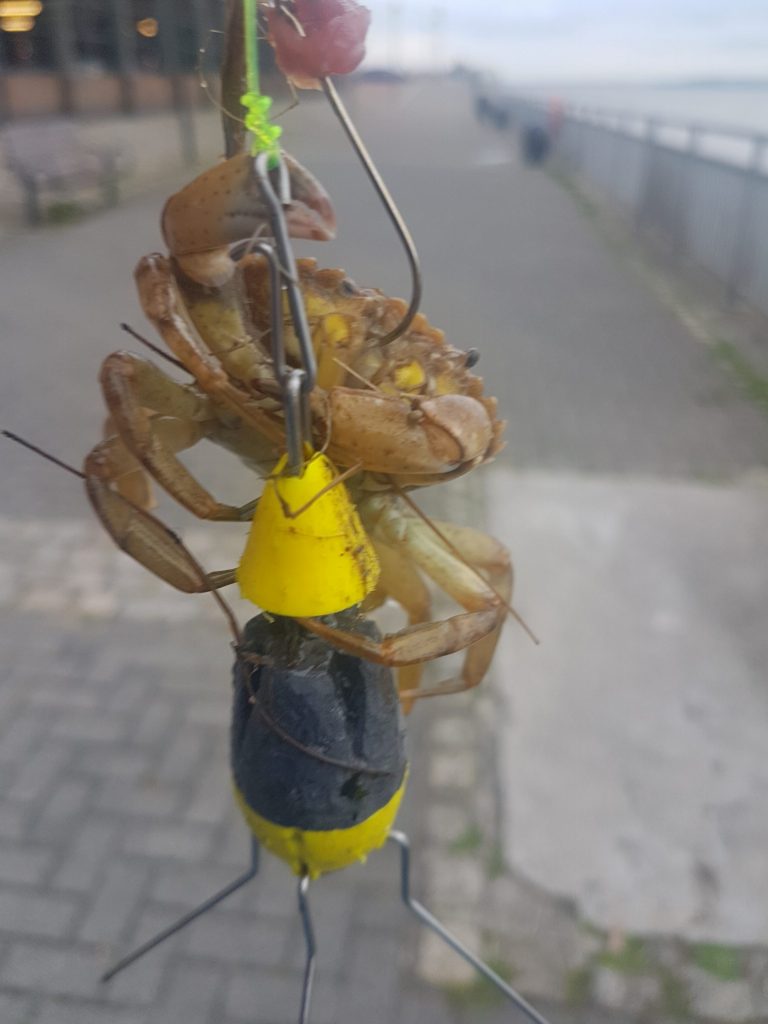 Finally I had a bit of action – but not what I was expecting.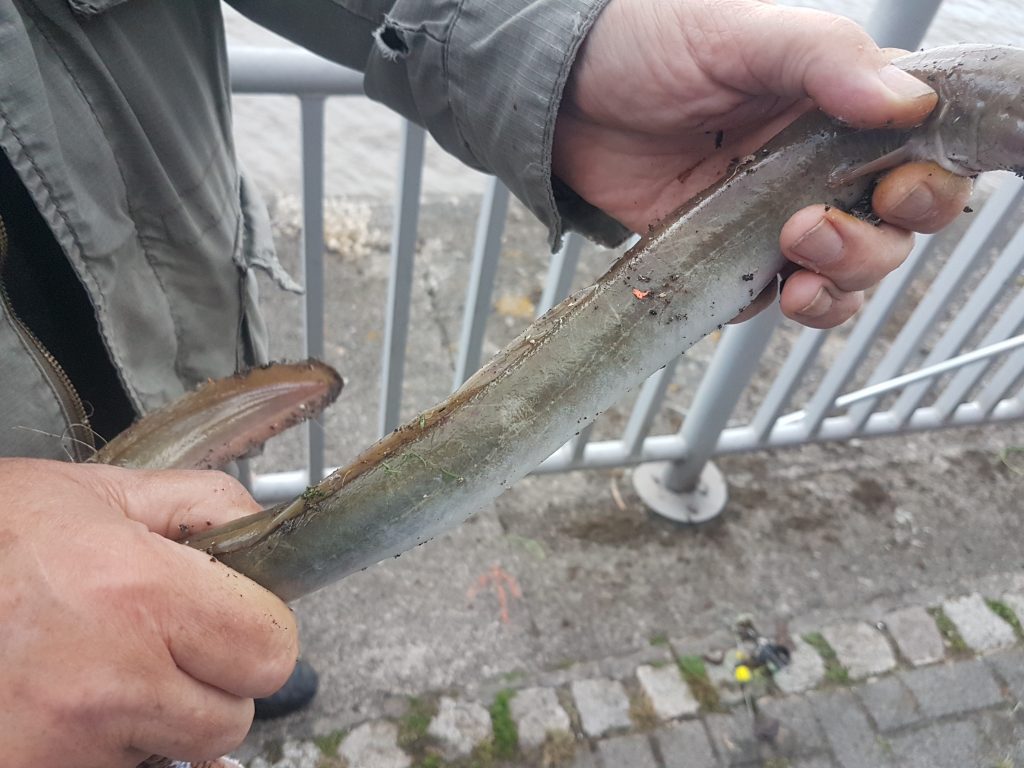 Well I wasn't expecting an Eel – I've never caught one here before,,, but I suppose I shouldn't be surprised to catch one at the mouth of a river estuary.
A short time later, I had another tentative rattle of the rod tip, thinking attack of the killer crabs again – I lifted the rod, expecting to get very little resistance but was heartened to feel the thump thump thump of a little fish.
I swung it up the sea wall and here was a fish I've never seen or caught before… a Three Bearded Rockling. I've caught plenty of the 5 bearded ones before on the Fylde coast, but never a red/brown one of the three bearded variety. I was quite chuffed as this was the end of what had proved to be quite a tough (but enjoyable) day with three new species added to the Anglers Challenge List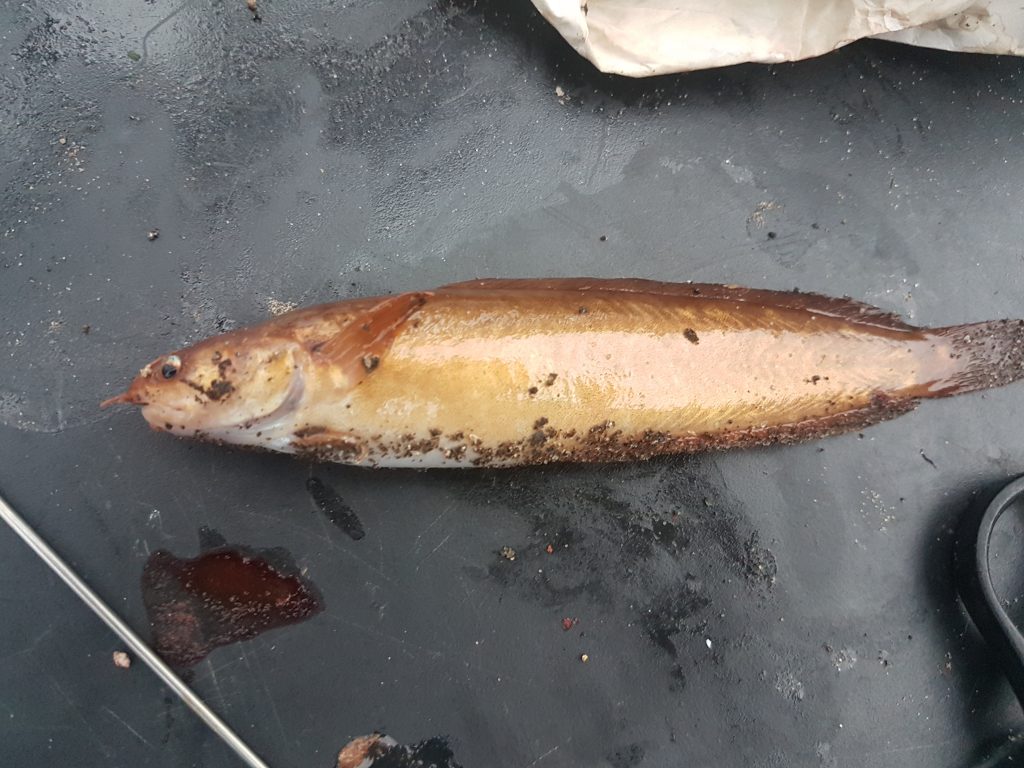 Seeing as though I had a free weekend – I wanted to get as much fishing in as possible, so Sunday morning saw and early start, a meet up with Andy and a drive over to the East Coast with the inflatable boat in the boot of the car. There was a stiff offshore breeze of nearly 30mph — but being the idiot/novice that I am – I thought we would be fine sheltered in the lee of Bempton Cliffs near Filey.
Even when we pulled up in the car park, and got the kit ready it looked like great conditions for fishing but after launching and going out 500 yards offshore we soon discovered a racing tide running along the base of the cliffs and a big swell which was occaisionally breaking in the gusting wind. So… I'm not at all experienced on the sea.,,, Andy and I just looked at each other and said "Nahh we're not having this" and turned round, packed up and went home again. Not a wasted journey, as I have learnt that safety first is the key, and strong winds and SIBs  are not a good combination. I retreated to fight another day.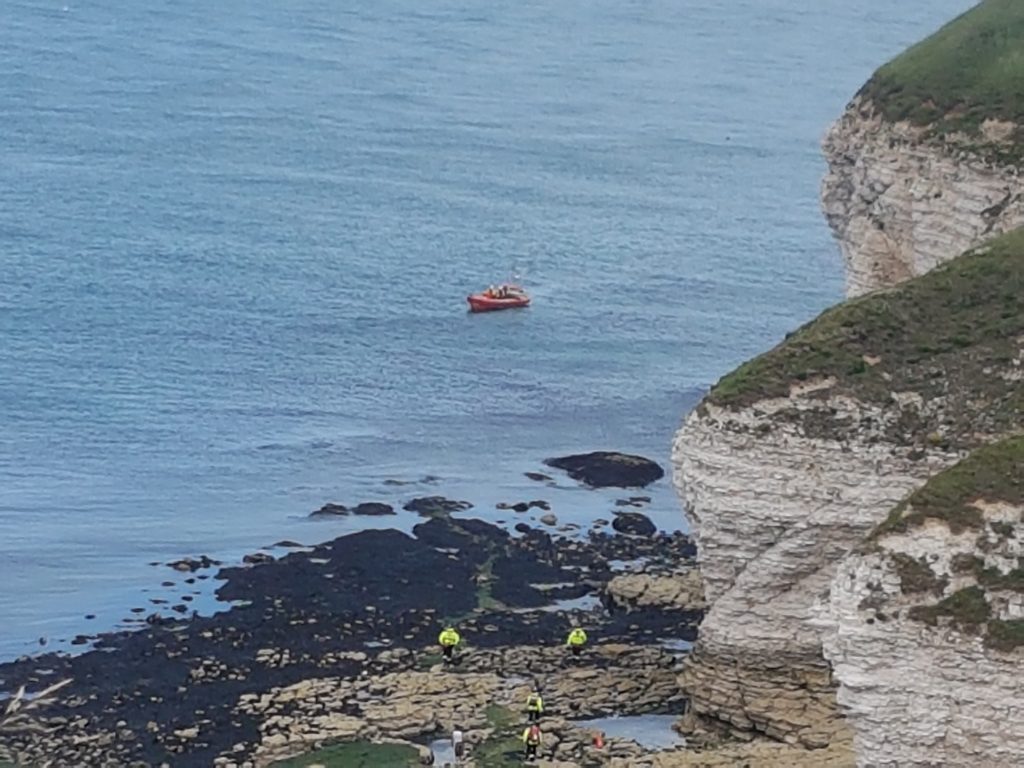 So that was that …. 3 new species added to the Anglers Challenge list … and a few lessons learnt …. roll on next weekend and some more fishing