Its been a while since I've written anything about Barbel Fishing on my local River Irwell. Which is very remiss of me really, as being a local angling club committee member I have been very much involved in recent re-stockings of the river with fish.
Here's two videos of the latest restocking which took place last week…. December 2018
So you're quite right in thinking that after these fish were stocked I'd get out there and catch one of these newly stocked fish, and put the capture of my first Irwell Barbel to bed
And then came the rains….. the river is pretty unfishable at anything over 1.20m on the guage…. and since these fish were stocked on Wednesday the weather in Manchester has lived up to its reputation – with the river rising, coloured, full of debris and unfishable.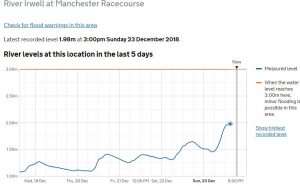 I had a short window of opportunity (wife off work to look after the kids etc) which finished today – as they are now both off school/nursery – and the missus back in work all through the Xmas and New Year holidays….
So its unlikely that I will be able to avail myself of this golden opportunity – and the weather forecast is much improved next week.
I tried yesterday morning for an hour – but the flow was too strong for my rigs, and my line was clogging up with bits of bog roll etc (Irwell Snowflakes).
Lets see if I can sneak out for a fish ……….. even if its after dark – I am determined to bank my first Irwell Barbel after years and years of trying.
It would be great if I could luck out and catch one of the bigger established resident fish…. but I have no shame … Once a stockie basher…. always a……….