Here are the observations of a North Manchester Angler written in 2009 – it gives a great insight as to the impact Cormorants have made on my local River Irwell. (and I've added a few observations of my  own to conclude)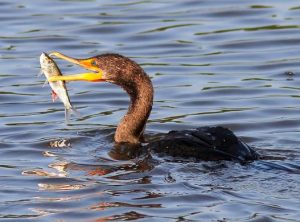 "I've run Wickenhall bottom lake in Newhey for around 8 years now. It was a chance remark by one of the regular anglers about fishing the river Irwell in Manchester. loads of roach, most of them between 6 ounces and a pound he said, and on some days we get maybe 8 or nine chub up to 3lb or so, we've even had a couple of bream too.
After probing the said angler on areas to fish, he said ,"don't go on your own cos it can be a bit rough, and swims are hard to find but worth the effort if you find the roach shoals".
a couple of months later and after talking my daughter into a pre Xmas shopping trip, (on the condition that we have an hour looking at the river for possible access points, I was stood high over the Irwell on the impressive Trinity bridge, fish were regularly topping a few hundred yards upstream, nothing massive, but definitely fish. Anyway plans were made for me and Pete Healy, to go and have a go the following Sunday.
We arrived 30mins or so before first light. Fish were topping everywhere. We both started on maggot feeder. My first bite came before I put the rod down, a perfect roach of 10 ounces. I turned to tell Pete, who was fifty feet further upstream, only to find him with a similar fish in the landing net.
The next few hours were ridiculous. Fish after fish came to the double maggot baits. In fact at one stage we both stopped fishing for half an hour to have a brew and a butty.
Without going through every session we had in a period of 4 years, I'll just say that the place was incredible. On numerous occasions, Pete, my daughter Abbie (9 to 13 years old at the time)on many, and I mean many days had at least 50 or sixty pounds of roach, chub, perch and dace. we only ever saw another four or five lads fishing over all that time and all of us kept it pretty quiet. Stickfloat was probably the best method with maggot, caster and hemp. But we caught on big baits like bread and meat too.
You'll have noticed by now a lot of this article is written in the past tense.
These glory days of the Irwell have now sadly passed. After speaking to one of the regulars last year and finding out the fishing had gone downhill we decided to have a couple of sessions in the old swims,(we hadn't been down for over 10 months). I can tell you it was a total waste of time, conditions were spot on for trotting, the water was perfect, but not a single bite in four trips.
now it's quite normal for shoals of silver fish to hold up all winter in city centre rivers. whether it's the lights or maybe due to it being a tad warmer I don't know, but it happens in lots of rivers in the UK.
It's also normal for fish to suddenly not be there one year for apparently no reason, quite often though they won't be that far away. So with that in mind we took my small rowing boat (normally used for piking) to have a look around with a fish finder. We did find fish quarter of a mile downstream in a couple of places and caught some on trotted maggot from the boat. These were mainly roach but we only had about six each.
There's a word I've deliberately missed out in this article up to yet, well here it comes……
……..CORMORANTS………
In the last two years of fishing we saw a huge increase in the numbers of these birds, starting with one or two at first and then going up to dozens in the end. We saw them many times taking big roach, chub and dace all day long on some days.
It was heartbreaking to see and is the main reason we stopped fishing there. Previously unmarked, pristine fish, were now very badly marked indeed and the fishing dropped dramatically. The reason I decided to submit this article was to let the lads in the Manchester area, who fished the Irwell now or in the past, know about the situation.
2008 between Xmas and new year we took the boat onto the Irwell. At this time of year, centre of town should be solid with fish….. we spent ALL DAY looking in every nook and cranny from M.E.N arena all the way to Salford quays.
WE DID NOT SEE ANY FISH AT ALL IN MILES OF RIVER, OR ANY OF THE BASINS, ETC, THAT CAN'T BE ACCESSED FROM THE BANK.
So what's happened to all those beautiful fish? Pollution would have turned some up for all to see but no one has reported any. Maybe they migrated further than we looked, but I doubt it, I think the black death is back in the country……..only this time it can fly.
As a footnote we caught from six swims in the centre of town. (are you ready for this):
ROACH TO OVER 2LB
BREAM TO 6LB
PERCH TO 3LB
SEATROUT TO 3LB
BROWNIES TO 2LB
PIKE TO 23LBS
TENCH TO 3LB
GRAYLING TO 1LB
DACE TO 12OZ
CHUB TO OVER 5LB
GUDGEON,RUFFE, AND I EVEN CAUGHT A BLUE ORFE ABOUT 2LB ONE DAY."
– – – – – – – – – – – – – – – – – – – – – – – – – – – – – – – – – – – – – – – – – – – – – – – – – – – – – – –
Fishing Fiends Opinion Below
Coming to the end of 2018 now – its interesting to see how the Irwell has changed – the roach have all but disappeared despite regular restocking by the Environment Agency.
The bream in the lower river have grown on to near double figures, carp started to show – some of them nudging 30lbs
Sea trout ??? do they really exist ?? or are they just smolted up brownies – which now grow to nearly 13lbs. The three huge locks on the Manchester Ship Canal are an effective barrier to migratory fish (though plans are being put in place to enable fish passage in the future)
Pike — well they are still present throughout the river from Bury down to Manchester, with lots of small jacks but the occasional big girl to 20lb.
Tench – I've never seen one from the Irwell.
Grayling – a recent stocking by the EA of 3000 tiddlers but an odd fish to 12 inches being caught in the Bury area. Dace are present but not prolific.
Chub to 6lbs,
Plenty of Gudgeon.
A smattering of Perch but they are not prolific.
200 Barbel were stocked at the waters meet of the Irwell and Croal in the early 90s by Farnworth Anglers – and the odd fish has turned up between Bury and Manchester to 13lb – however these fish are as rare as hens teeth, and its a real achievement to catch the mythical Irwell Barbel. The EA stocked 500 fingerlings in 2014, and again with 500 slightly bigger fish in 2017 and another 500 in winter 2018. However they don't appear to thrive in Irwell waters and are still the Holy Grail for Irwell anglers.
As water quality improves – the fishing has without doubt declined from the halcyon days of the early late 90s and early 2000s. I too can remember catching 50lb+ nets of roach on hemp and maggot – but these events are now a thing of the past.
However,the trout fishing goes from strength to strength as water quality improves, and their fry are better suited to fast flowing water.
Without doubt the Gooseander which so effectively predate on fish fry, the Cormorants which so effectively predate on adult fish, mink  and frequent pollution incidents have decimated our river.
I wonder what the future holds..