After 360 articles on fishing, I've decided to change the subject of my next post article from fishing to football. ( I might do a few more football ones in future).
Here goes….
I've always enjoyed going to a match. As a child I used to watch both Man United and Manchester City on alternate weekends with my dad.  He was a school teacher with 5 kids and not so much spare money, so sometimes as a treat we went in for the whole game, but more often than not we sneaked in for free to watch the last 10 minutes of a game when the large exit doors opened. I used to love it, the hot dog wagons, the End Is Nigh – Repent men, the huge crowds and the noise.
As i grew older it was Bolton Wanderers, Bury and Oldham Athletic with school friends, then Bournemouth when I was at university, and Leyton Orient when I used to live and work in London.
So for me I've never had "a team" so to speak, I've been a sort of floating voter just going along to enjoy a good game.
The wild wild days of my youth, being chased by mounted police down the back alleys of Manchester and Salford, watching the harder teenagers fight on the Manchester Road in Bolton, and outside the Pack Horse in Bury. The officer mounted on the white horse at the gate to the Stretford End who used to give us all the evil eye… I've always had that feeling that most police enjoyed football match duty and the opportunity to engage in a bit of violence with the fans. There was an edge to it, and I loved that edge.
Sadly as I grew older this all became stale for me, with all seater stadiums, smoking bans, no beer while watching the match etc and the slow death of the traditional atmosphere inside modern stadiums..
Lets face it. Modern football is shite. A mere shadow of how it used to be.
Sit down, shut up and spend lots of money is what football clubs want from their fans, and as this became more pervasive, I spent more and more time fishing with my friends and football became something that I used to do.
Then back in 2005, FC United formed as a protest to the takeover of Manchester United by Malcolm Glazer and financial shenanigans which enabled them to do this at the fans expense. It stank, but the new club that emerged from this shambles, and the passion of the fans that created it caught my attention, especially as they played their home games at Burys ground Gigg Lane, only a mile or two up the road.
It took a year or two before I got round to going to a match (children, divorce, dating again, work the trappings of early middle age and lots of fishing), then for some unfathomable reason I decided to go and watch an FC United away match one evening in Clitheroe.
Bloody Hell !! What a night. The singing started 10 minutes before the kick off, lulled a bit at half time, then continued all the way through a 0-3 win for FC and continued out into the street as the fans left the ground to make their way home. The atmosphere was amazing, the football was good, the standing up, the drinking beer, being part of a big tightly packed crowd who were enjoying themselves. I was hooked again.
I dipped back in and out of FC over the next few years, just as I had done when watching teams in my younger years but as my eldest son Matthew became interested in playing Rugby, me doing a lot of fishing, and other work stuff taking up a lot of my time football and FC Utd remained an interest rather than a passion. As FC moved from their home in Bury first to Stalybridge and then Ashton I was more dipping out than dipping in. Even when FC built their own ground at Broadhurst Park I was more interested observer than passionate supporter.
Then one day, my youngest son Tommy who was as the time 5 years old told me that it was about time I took him to a match. So the next Saturday was a nice bright April afternoon, FC United were playing Darlington at home, and we went along, FC United lost but Tommy was hooked.
The following season 18/19 FC had a torrid time, sacked their manager, lost every single match that we went to watch and ended up being relegated.. the football was shite and the players didn't appear to care. However, my young man had the bug and he loved going to the matches, and I loved taking him.
The following 19/20 season was what I call "the Tunde year" a poor start to the season was followed by an explosive period as FC signed a new striker Tunde Owalabi who literally set the place on fire with his skill, goals and friendly personality. Tommy had a hero and unlike most childhood heroes this one was approachable, friendly and a great role model.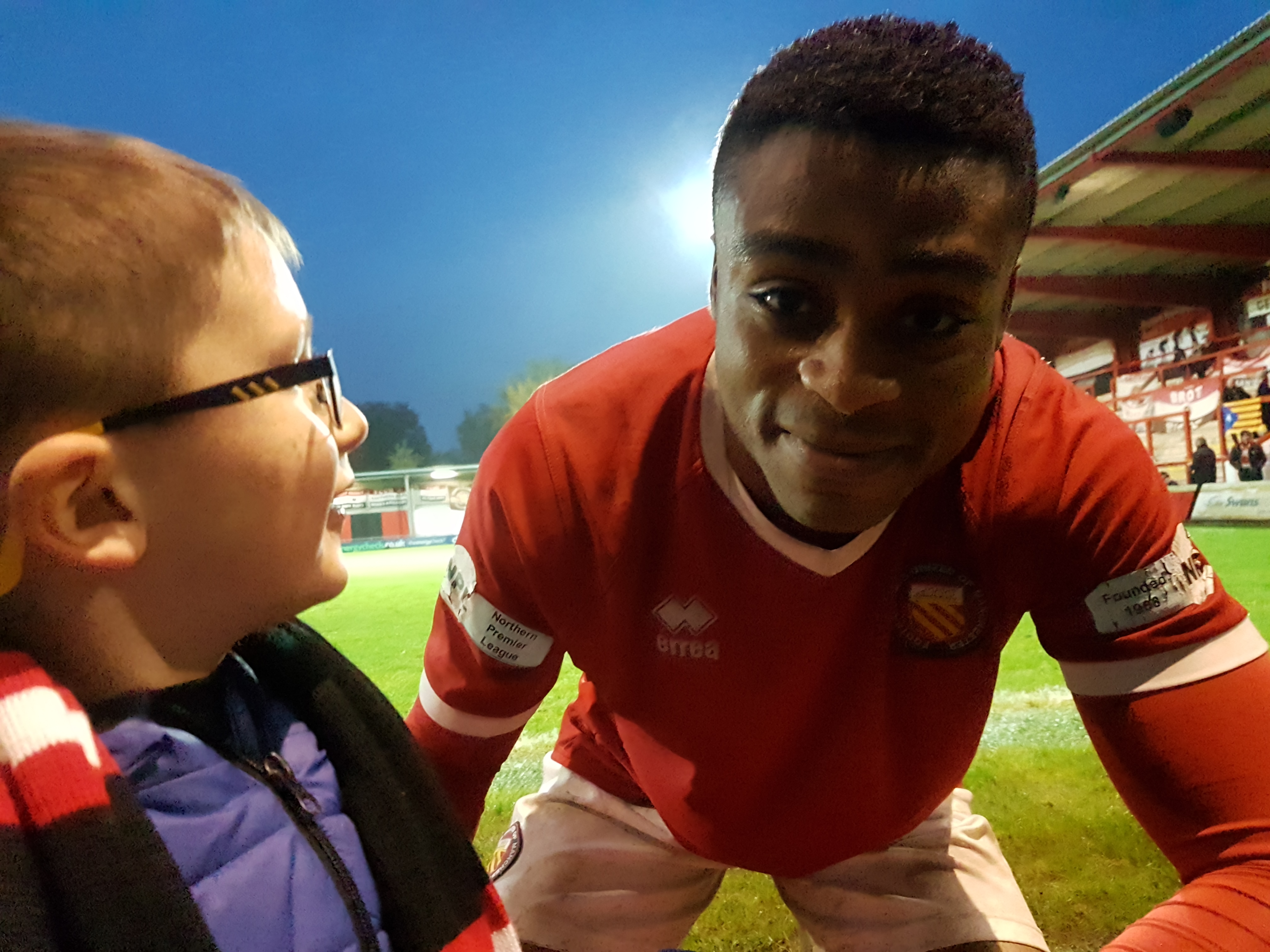 All boys need a hero – and Tunde not only happened to be a football god, but also a very nice fella.
The season could have ended in promotion but then Covid came in with a cough… and the season was over before it was over…. what could have been eh ?
Season 20/21 just didn't happen and then season 21/22 started, and was then shortly followed by an announcement that FC were entering a European Competition for non-league clubs of a special nature, and that FC had been selected as the British representative in the competition.
By now – I can assure you that my son Tommy eats, sleeps, drinks and sleeps football. Playing as star striker for his local team in North Manchester — already gaining the reputation as a ruthless striker with many hat tricks to his name. Whilst refusing to tackle anyone, run, track back etc. His relentless occupation of the space between penalty spot and goal line has earnt him the title of "Tommy Tap In"… the prospect of his team FC United entering into a European Cup for non league teams excited him so much that he could hardly sleep in anticipation of the draw.
We watched the draw live on Youtube together for the Fenix as FC were drawn in group 2 along with AKS ZLY from Poland, Brera Calcio from Milan and DWS from Amsterdam.
FC United were in the same group as three other teams from Amsterdam, Milan and Warsaw, so seeing as though this fishing blog has now started making me some money, I decided to spend some of it and go to all the matches I could home and away in Europe with Tommy.
The tag line of this Fenix Competition is #makingfriendsnotmillionaires (a line they appropriated from FC United) and I already approved and thought it would be a good opportunity for Tommy and I to spend some lad and dad time.
First up was Warsaw away – a very cheap Ryanair flight and a decent hotel in the City Centre of Warsaw only a short taxi ride away from the ground.
Now I thought FC fans were loud and passionate but the fans from AKS ZLY of Warsaw were on another level. Fireworks, flares, drums, megaphones and they sang their way through the match despite being on the receiving end of a 1-6 drubbing by FC who were much the better team.
Heres a couple of photos from that night.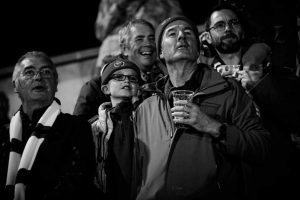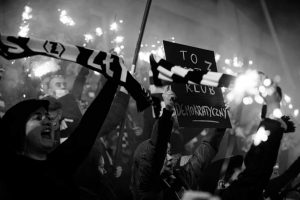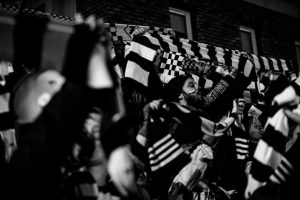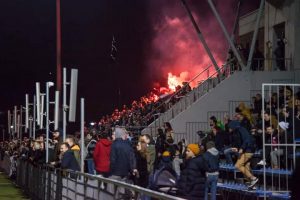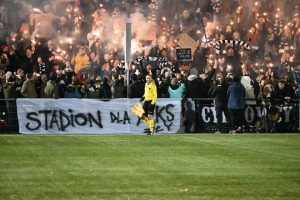 What an amazing night that was. And I think I sealed the deal in the eyes of Tommy – that he has a cool dad (despite all the fishing).
Could anything beat this – well yes actually…
Read on… in part 2 (next week) for the second part of this football story, as FC United made it all the way through to the tournament's final in Rimini earlier this summer in 2022. We had some great trips and matches, met some amazing people, snagged some unbelievable souvenirs and made a couple of special friends.