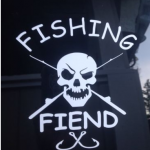 A little bit about me Fishing Fiend
I set up the Fishing Fiend blog in January 2008 as my life had got in a bit of a rut and for some reason I've always found happiness when fishing. My girlfriend – now wife pushed me into writing this, as she wanted me outdoors a bit more rather than doing nothing but work.
Little did she know that over the next decade and beyond, fish and fishing would consume my life to such an extent that I would sell my business and retire for a while (so that I could fish, fish and fish some more) and then set up a Rivers Trust to protect my local rivers.
Throughout all of this change – my blog has been a constant…. a record of most of my fishing the success and the failures.
Over the years while writing this blog, I've met some great people, made wonderful friends, some of whom I am in regular contact with.. others less frequently but not thought any less of due to my lack of frequency of contact. Many thanks to all my friends for being a part of my life and making it so enjoyable.
It saddens me to see fewer people out fishing each year, tackle shops closing and the general decline of fishing as a hobby. Some people see this decline as being due to the pressures of fish eating birds, otters etc however all the evidence shows that fishing in the 21st Century is much better than the fishing experienced in the 20th Century… especially in the more industrial urban areas where this blog is focused ,,, quoting someone else's opinion "you've never had it so good…."
Please enjoy reading my fishy ramblings.
Mike Duddy – Fishing Fiend January 2020
Other websites that I contribute to
Salford Friendly Anglers Society – the worlds oldest fishing club
Start Fishing – the clue is in the title !