I've been out today on my fishing clubs annual Christmas Pike Social.
Always good fun on the Old River Irwell (a still water created by the construction of the Manchester Ship Canal) in Irlam, which has a tremendous head of small to medium size pike max upper doubles.
I was a late arrival at 8am just as it was getting light. Others had been on since 7am but as yet no one caught any fish…. which was unusual as in previous years the most productive times had been the hour before and after dawn.
I set up a single rod, and had to wait until nearly 11.30am before I caught the first fish of the day. A small fish of no more than 2lbs
Here is is…. believe it or not…. the same fish….. firstly held by my pal Karol…. who pushed it out towards the camera lens and then by me held in towards my body.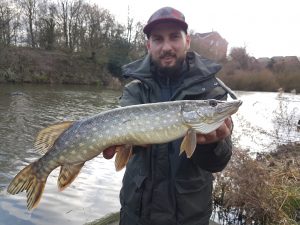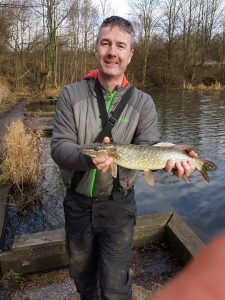 A startling difference – and as you can see from the second more honest photo – not really much of a Pike at all.
This year every angler caught a pike, and they were all caught between 12.30 and 1.30pm
By 2.30 we had all had enough and retired to the pub – to continue the more social element of the days "social fish in"