A long overdue two week break saw us loading up the car and heading off down the M6 and M5 to Cornwall for a fortnights family holiday in Cornwall.
I of course loaded up the car with fishing tackle, inflatable boat and outboard engine before my wife got a chance to fill up boot space with her excess luggage – it's important to get your holiday priorities sorted from the outset.
Our journey down the country was spoiled by endless roadworks and traffic jams – only to be capped off by the clutch packing in on my (less than) trusty car.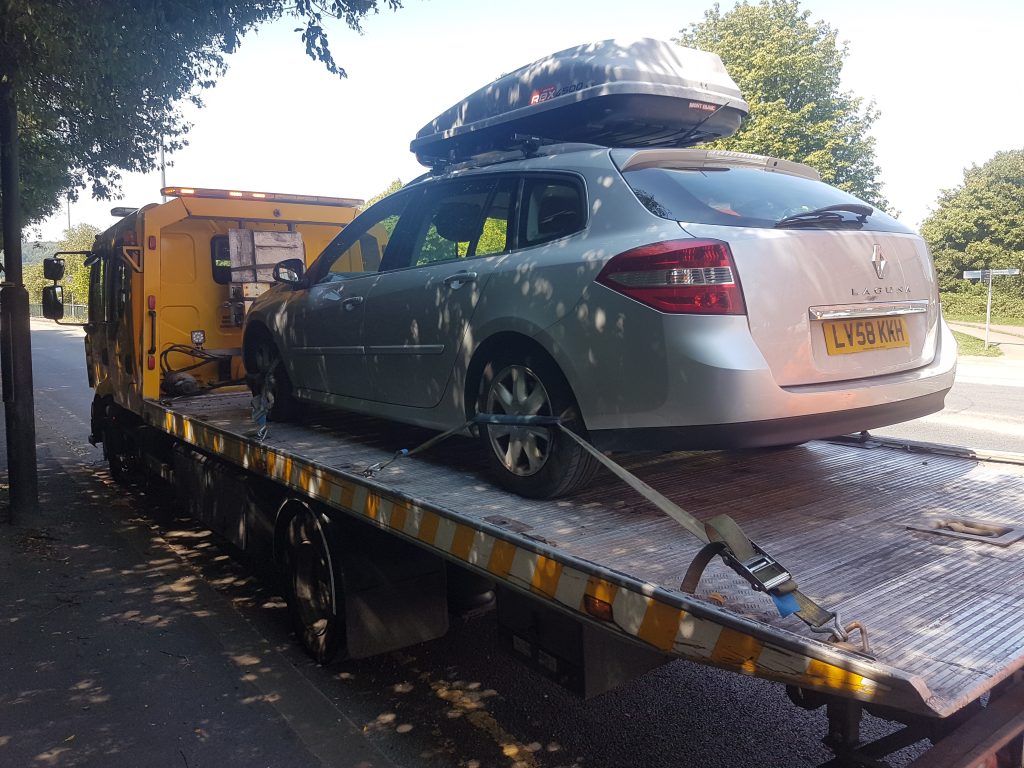 So – plan B — dump the car at a clutch centre (no one is open in Bristol at weekends), hire a car and carry on with family holiday. Beans on toast for the next 2 weeks lol.
When  we finally arrived at our destination for week one, I was delighted to see how close we were to the beach, and a launching ramp for the boat. Well done Mrs D – I couldn't have picked a better spot myself.
Millendreath, Cornwall — look it up.
Anyway — the title of this blog post is Holiday Fishing Cornwall – with the word Holiday taking precedence over the word Fishing — and so it was, swimming, crabbing, coast path hiking and Eden Centre visiting were to the fore, with fishing very much on the back burner — Until…
I felt as though my restraint had been over done — it was time to pump up the boat and get out fishing.
My wife had other ideas – If I was going out fishing — so were my little helpers 🙂
Our first trip out was an hours look see early one evening. Despite numerous internet searches there was little information to be found about fishing at Millendreath or in Looe Bay – so it was time to have an initial search around.
As the kids were with me, i just set up a single rod with a 20g jig to see if there were any mackerel or pollack about. And for quite a while it appeared as though there was nothing about… Until – the rod tip hooped over and we had a fish on.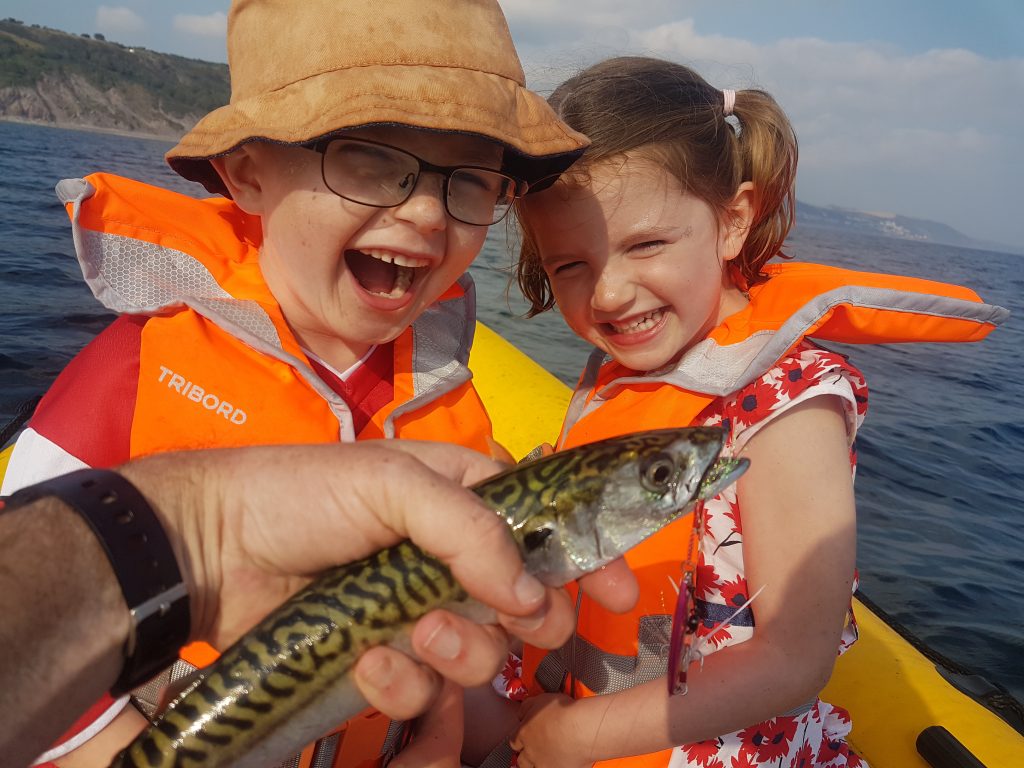 And here is a close up of the lure that did the damage.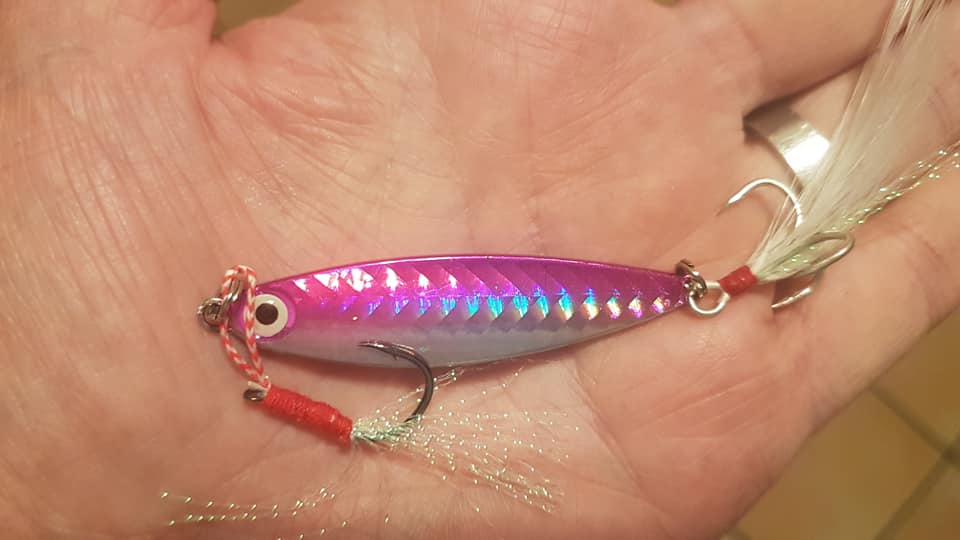 Sadly that was the only fish of the evening, despite quite an intensive look about.
We ate the fillets for breakfast, and I kept the silver belly flesh for bait (mackerel belly – the silver bit – makes a great tough bait).
The next day, armed with a decent bit of bait we headed off to Looe harbour under the guise of doing a bit of crab fishing — we smashed the crabs, catching  35 of them in double quick time.
Whilst the kids were doing the business with the crab nets, I put a couple of slivers of mackerel belly onto a size 14 hook and had a look down the side of the harbour wall to see what I could catch..
First up was this cracking Common Blennie – which the kids christened Bennie the Blennie. Common Blennies are also known as Shannys – but I thought that it would be more appropriate for the kids to talk about Bennie the Blennie, rather than Fanny the Shanny (I"ll leave the potential issues with that name with you).
Then the micro pollack moved in.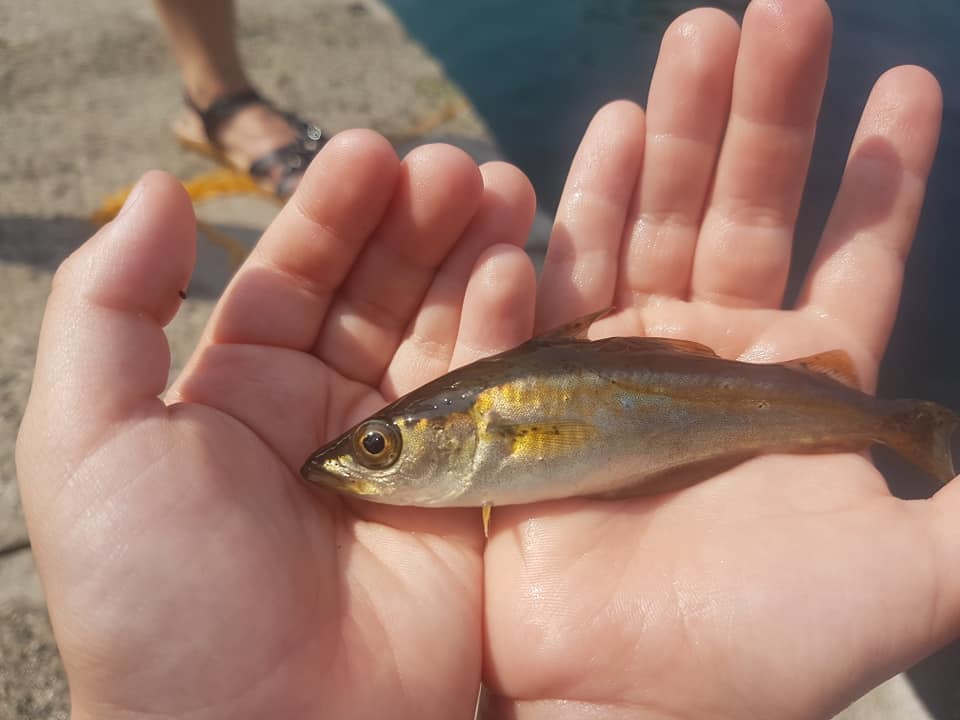 I caught them a fish a chuck until I ran out of bait – well over 20 of them using small slivers of mackerel belly, on a size 14 hook, using a simple paternoster rig with a 1oz lead weight.
The next few evenings saw me out on the boat alone for an hour or two – using Berkley Gulp Worm for bait – the only thing i could catch was more micro pollack.
Looking back on it, I should have shelled out and gone on a mackerel boat from Looe to see where the mackerel were. It would have given me and the kids a bit of fun, I would have learnt where the mackerel were to be found, and it would have provided me with better bait than imitation rag worm.
But Hey Ho, I was relaxing on holiday and whilst I was enjoying a little fishing, it wasn't top priority.
Our next week saw us drive another hour or so down towards Lands End, and we stayed in a lovely little village just outside Penzance.
Again, fishing information about Mounts Bay was a bit thin on the ground on the internet, but I was pretty sure that if I trolled a lure a good distance behind the boat, it wouldn't take too long to hook into a fish or two.
And I was proved right, as you can see if you stayed tuned into my first ever Youtube Fishing Video (as promised) right the way through to the end.
We had a couple of really nice Bass during a short circular trip around St Michael Mount, and then the weather turned as an unseasonable Storm Ellen arrived with its 60mph+ winds.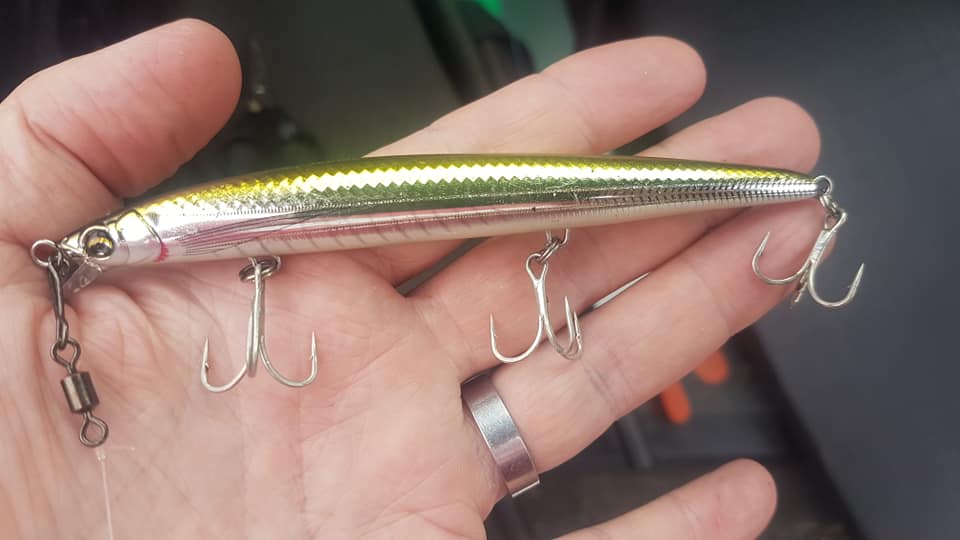 A short cold session at Hayle (from Asda car park) was a bit of a waste of effort, and all too soon it was time to hit the motorway network again for the long long drive home.
I really wish I had spent a bit of cash on going on a Mackkie bashing trip, it would have given me a bit of local knowledge on hot spots, and also plenty of bait to use as an alternative to the Berkley Gulp Worm.
Holiday Fishing Cornwall – we loved it!!