I'm lucky enough to live close to a number of ponds that are manged by our fishing club. They were all terribly neglected for a number of years until the club took them on. Fish stocks were low, and anti social behaviour was rife (and still is to a slightly lesser degree)
One of the ponds was constructed behind Forest Bank Prison in Salford in the 1990s as a surface water run off pond – and as it collects run off water from the prison roof and car parks, its had inevitable water quality issues over the years.
The Prison Pond has now matured nicely (also known as Agecroft Pond), and both the club and the EA have restocked the lake in recent years with small roach, rudd, tench, bream and carp.
It's not a heavily fished venue as the fish haven't had the chance to grow to any size in this lake, so I thought I'd have an evenings fishing as see if I could hook a surprise or two.

Obviously I've fished this venue a quite a few times before, and I know all the features, lake bed profile etc but I've never ever had a bag up session here…. but who knows what might happen this time following on from the restocking 18 months ago….the fish must have settled down by now.
The first thing I noticed was that there were masses and masses of fry in the margins ,,, which was a good sign that there was a healthy population of adult fish.
I set up to fish the pole at 11 metres as there is a 6ft deep bowl shaped feature in the centre of the lake, and put on a very light 0.2g rig with size 10 stotz strung out to fish a slow falling bait on the drop.
I also fed a bit of groundbait (Sensas Lake Black) on the swim slightly to my left at 10 o clock, and I put in a couple of pots of micro pellets on the swim to my right at 2 o clock.
So first put in, I had a very slight tremor on the float, and I lifted into this little scrapper of a Rudd, my first this year so another addition to my "anglers challenge list"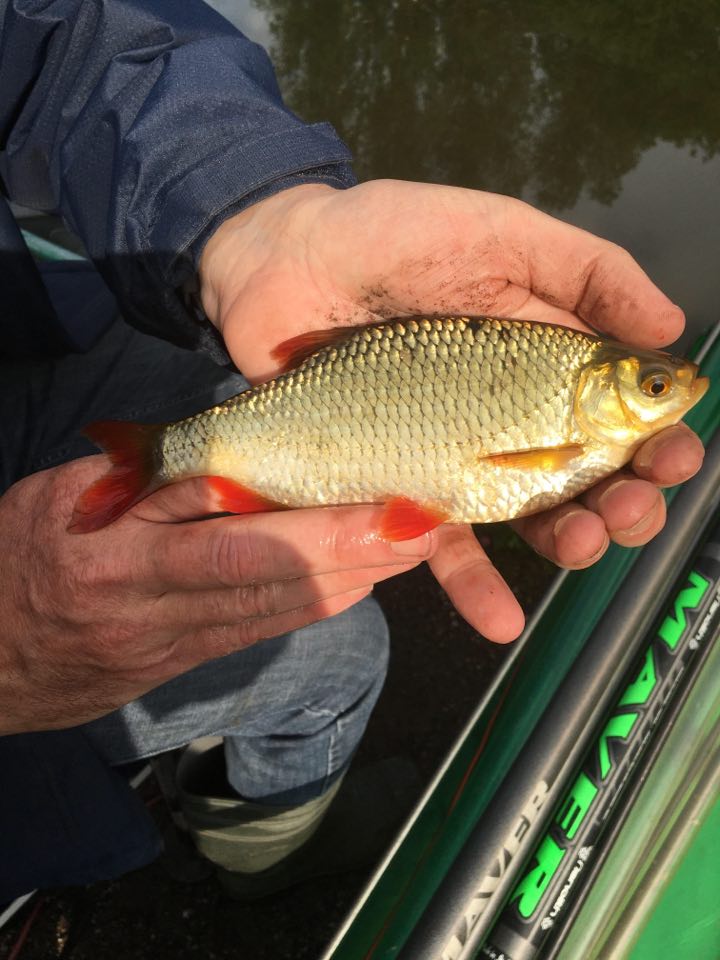 I had a few more roach and rudd in the first 20 minutes from the left hand ground bait swim, and then decided to rest it and move over to the pellet swim to my right.
Nothing on the drop, so I pushed the stotz about, and lengthened the rig to give me 2 inches over depth, to see if there were any bream or tench about ….. and still nothing. I stuck it out trying all sorts of little bite inducing variations for 20 minutes — but I could't get a bite (despite there being indications of fish bubbling)
So – seeing as though this was a short session, I went back to my left hand swim to see if i could tempt a few more fish out of it now that it had been rested.
First put in, the float slid and I hooked a tiddler, but it was only when I swung the fish in that I realised I'd caught my first Dace of the year…. A Dace ??? how on earth did that get in there. And then I caught another tiny dace and another.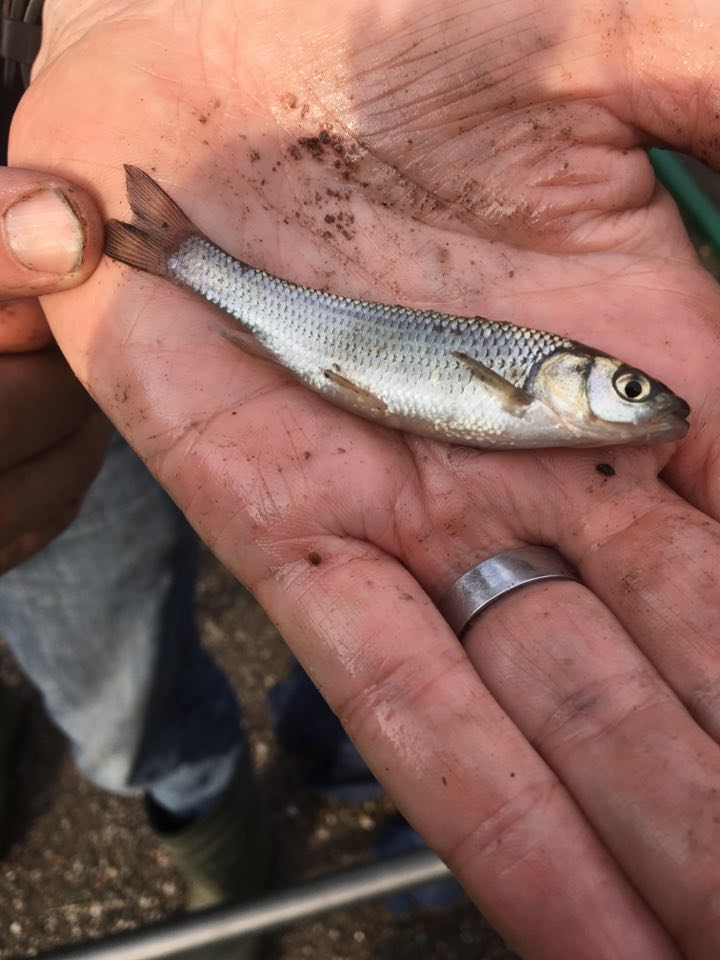 Maybe they had slipped in when the EA restocked, maybe they had arrived when the River Irwell had flooded a few years ago, maybe a naughty angler slipped a few …. who knows…. but we now have a pond with Dace in.
As the evening progressed the bites sadly became fewer and harder to hit, and then with rumbles of thunder and a summer downpour soaking me to the skin, I packed up after having had only a couple of hours fishing.
Anyway — look the prison pond up on the map, behind Forest Bank Prison… its a cracking little pond and bites are easy to come by.
I've now clicked another couple of species off my anglers challenge list taking me up to 13 — I am still very hopeful of catching at least 50 species (fresh and salt water) this year – despite the few months of inactivity due to lock down.